Bulgur Tabbouleh
Bulgur Tabbouleh, an easy authentic tabbouleh recipe with bulgur, fresh herbs like parsley and mint, and fresh squeezed lemon. A simple grain and parsley salad recipe!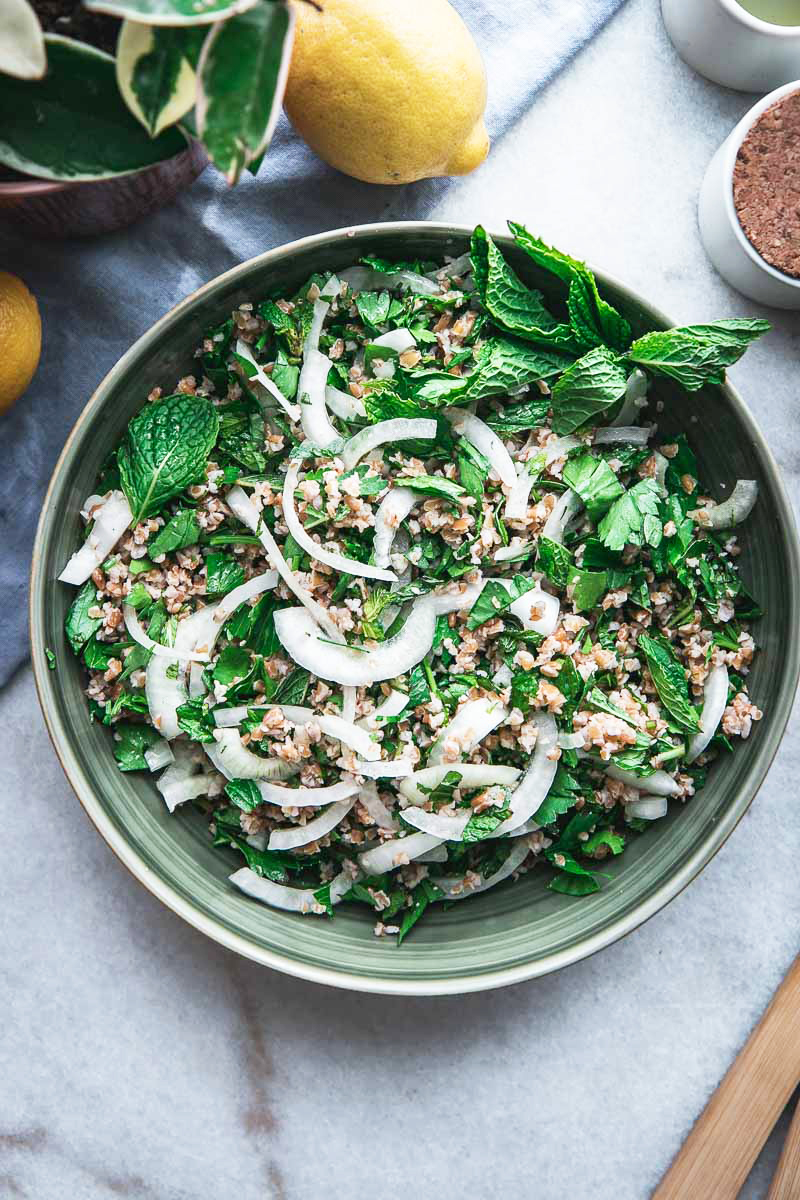 While summer salads come in all shapes and sizes, when I think of summer salads I think of fresh herbs. Nothing takes a salad with fresh summer vegetables next level like a sprinkle of fresh herbs and a drizzle of good quality olive oil.
That's why one of our favorite simple salad sides is a traditional tabbouleh salad. Made with whole grains, olive oil, lots of lemon juice, and as many fresh herbs as you can fit in, tabbouleh salads are where it's at for summer picnics and platters.
One of our favorite tabbouleh recipes is a Bulgur Tabbouleh — soft, whole grain bulgur, lots of fresh parsley and mint, a bit of chopped onion, and a drizzle of oil and lemon. So simple, yet so full of flavor.
Want the recipe for this simple, 7-ingredient Bulgur Tabbouleh? Let's do it!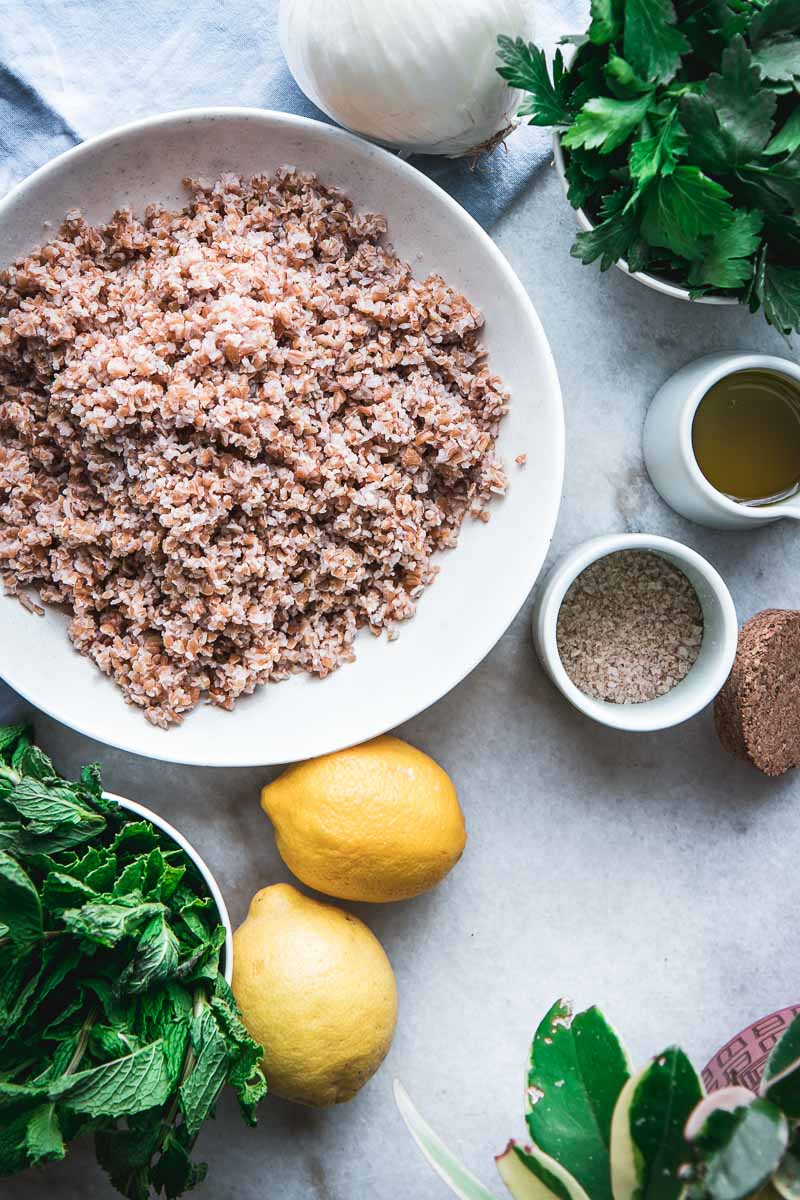 ---
What is tabbouleh? What are tabbouleh variations?
Tabbouleh is an herb and cracked grain salad that is traditionally made in many cultures throughout the eastern and southern Mediterranean. The recipe that is argued as "authentic tabbouleh" is typically made fresh parsley and a small amount of soaked bulgur, as well as fresh mint, onions, olive oil, lemon juice, and salt.
There are many variations of tabbouleh — and many will argue that their recipe or ingredients are the best. Some tabbouleh recipes substitute couscous for bulgur (and foodies are now using trendy quinoa), while others include additional ingredients such as finely chopped tomatoes, cucumber, garlic, and added cheese like feta.
For this Bulgur Tabbouleh recipe we're increasing the amount of whole grain bulgur for a more substantial salad. However, no matter the ingredients or recipe technique, if you're using copious amounts of fresh parsley, healthy olive oil, and tangy lemon juice, you can't go wrong!
---
What is bulgur? How do you cook with it?
Bulgur — sometimes referred to as burghul or groats — is a whole cereal grain made from the cracked groats of many different wheat species (typically wheat berries, oats, rye, or barley). This means that bulgur is not a gluten-free grain, so those avoiding gluten should not consume bulgur.
Bulgur is not a very common grain in most Western countries, but it is a staple crop in cultures throughout the Middle East. It is a cracked wheat, which means it is packaged as small, irregular-shaped particles that can be boiled or soaked.
Cooking with bulgur wheat is super simple; the grain can be boiled (fastest), or soaked in either boiling or room temperature water (longer, but preferred method in Middle Eastern cultures). I have even seen some chefs soak the bulgur in olive oil, which completely skips the water boiling process — and makes for an amazingly rich mouthfeel.
For this Bulgur Tabbouleh recipe we'll be soaking the bulgur in boiling water, which speeds up the process a bit but still keeps the tabbouleh preparation as traditional as possible (as saves on expensive olive oil!).
---
How to make Bulgur Tabbouleh
Making traditional bulgur with tabbouleh is incredibly simple and comes down to a few simple steps: soak the bulgur, mix with other ingredients, and season. Easy as that!
First, to soak the bulgur you'll place the bulgur wheat into a shallow bowl and pour boiling water until the water covers the grain by about two inches. Then set a timer for about 45 minutes and let the bulgur soak and soften.
When the bulgur is done soaking, drain it and either let sit to dry for about 30 minutes, or you can place the soaked bulgur in a cheesecloth or small hand towel and squeeze to release more water.
Next, toss the bulgur, chopped parsley, chopped mint, very thinly sliced onion, and allspice in a large mixing bowl until well combined. Then drizzle the grain salad with generous amounts of olive oil and lemon juice, season with salt to taste, and enjoy!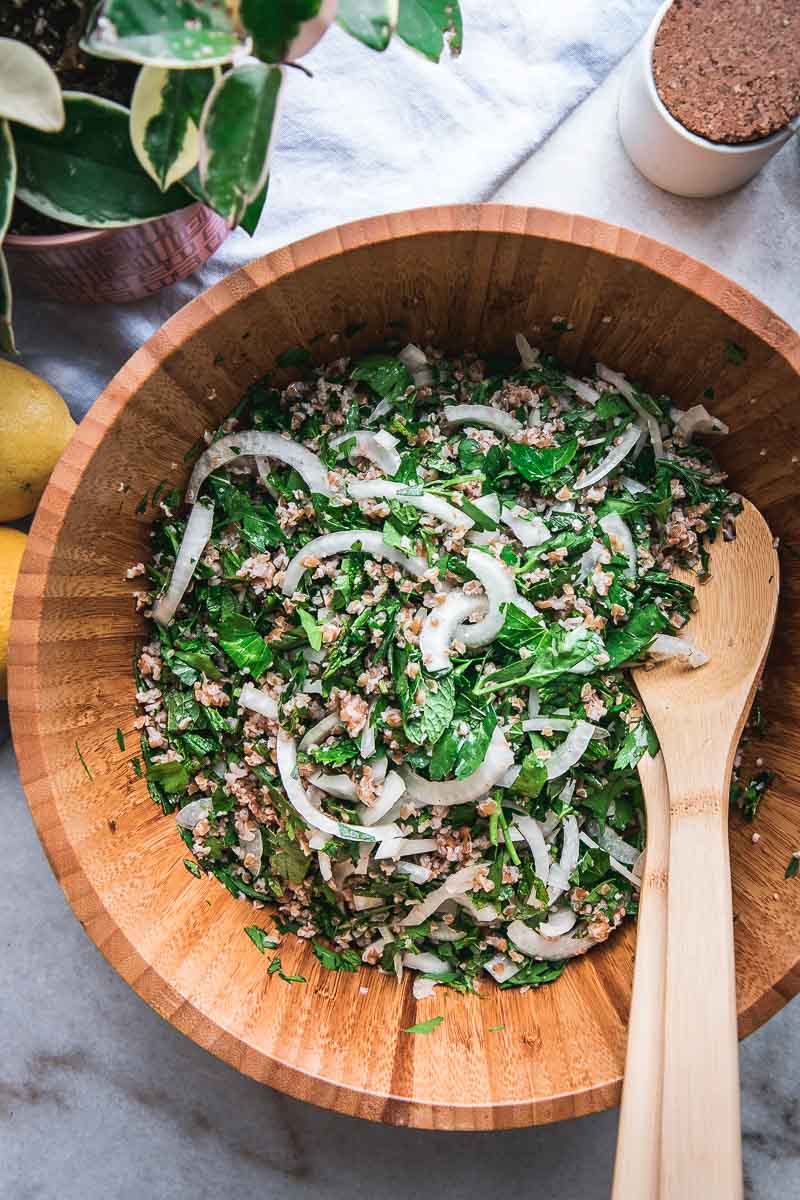 ---
Bulgur Tabbouleh: Tips, tricks, and tools
Making tabbouleh is about as easy as it gets, but there are a few tips and tricks for streamlining preparation and getting the most out of your ingredients.
Prep ingredients ahead: while this fresh parsley tabbouleh is very simple to prep, if you're making for a party or need to cut down on prep time soak the bulgur first and chop the fresh herbs and onion. This will prep time about five minutes because you'll only have to toss together the salad ingredients.
Make it your own: add chopped tomatoes, garlic, or cucumbers to add more plants; add sprinkled feta cheese for a bit of protein
Recommended tools: a set of large glass mixing bowls, and environmentally-friendly cookware to boil the water
---
Love this simple traditional tabbouleh recipe with bulgur? Check out our other whole grain salad recipes, like this Simple Quinoa Greek Salad, Black Bean Corn Farro Salad, or the sweet and savory Stone Fruit Quinoa Salad.
Did you make this Bulgur Tabbouleh recipe? Leave a comment below and rate the recipe to let us know how it turned out. Save this simple grain and herb salad recipe for later by pinning to your favorite salad Pinterest board and make sure to tag me on Fork in the Road's Instagram to show me your tabbouleh creations!
Yield: 8 servings
Bulgur Tabbouleh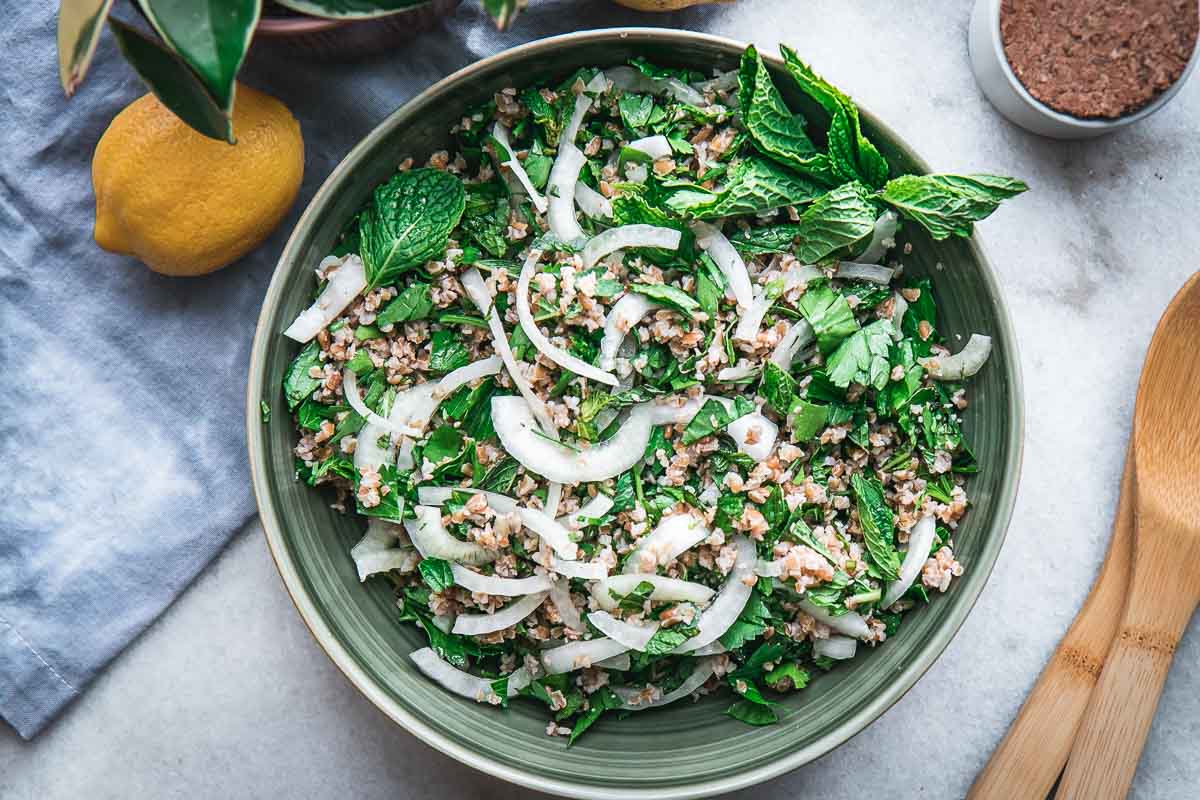 Bulgur Tabbouleh, an easy authentic tabbouleh recipe with bulgur, fresh herbs like parsley and mint, and lemon. A simple grain and parsley salad recipe!
Prep Time 50 minutes
Cook Time 5 minutes
Total Time 55 minutes
Ingredients
⅔ cup dry bulgur
2 cups boiling water
½ white onion, very thinly sliced
1-½ cups parsley, chopped
1 cup mint, chopped
1-½ teaspoons allspice
⅓ cup lemon juice
⅓ cup olive oil
Salt to taste
Optional: cherry tomatoes, cucumber
Instructions
Put dry bulgur into a bowl and pour boiling water over it until water is 2 inches above bulgur. Let soak for about 45 minutes to one hour, or until bulgur has soaked up most of the water and is soft to the touch. Drain and squeeze in a cheesecloth or small hand towel to remove extra water.
Toss bulgur, parsley, onion, mint, and allspice in a large mixing bowl (add tomatoes and cucumber, if using). Drizzle with olive oil and lemon juice and stir to combine.
Add salt to taste and enjoy!
Notes
Tools Needed: large glass mixing bowls, environmentally-friendly cookware
Prep Ahead: Make bulgur up to two days ahead of tabbouleh salad preparation
Leftovers and Storage: Store bulgur tabbouleh in an airtight container in the refrigerator for up to four days.
Nutrition notes: Nutrition information calculated without addition of tomatoes and cucumber. This vegan bulgur tabbouleh recipe contains whole grains and is high in healthy plant-based fats and dietary fiber per serving.
Nutrition Information:
Serving Size:
1 serving (1 cup)
Amount Per Serving:
Calories: 264
Total Fat: 17g
Saturated Fat: 5g
Trans Fat: 0g
Unsaturated Fat: 12g
Cholesterol: 0mg
Sodium: 197mg
Carbohydrates: 24g
Fiber: 3g
Sugar: 1g
Protein: 7g
We are participant in the Amazon Services LLC Associates Program, an affiliate advertising program designed to provide a means for us to earn fees by linking to Amazon.com and affiliated sites.