Bulgur Tabbouleh, an easy authentic tabbouleh recipe with bulgur, fresh herbs like parsley and mint, and fresh-squeezed lemon. A simple grain and parsley salad recipe!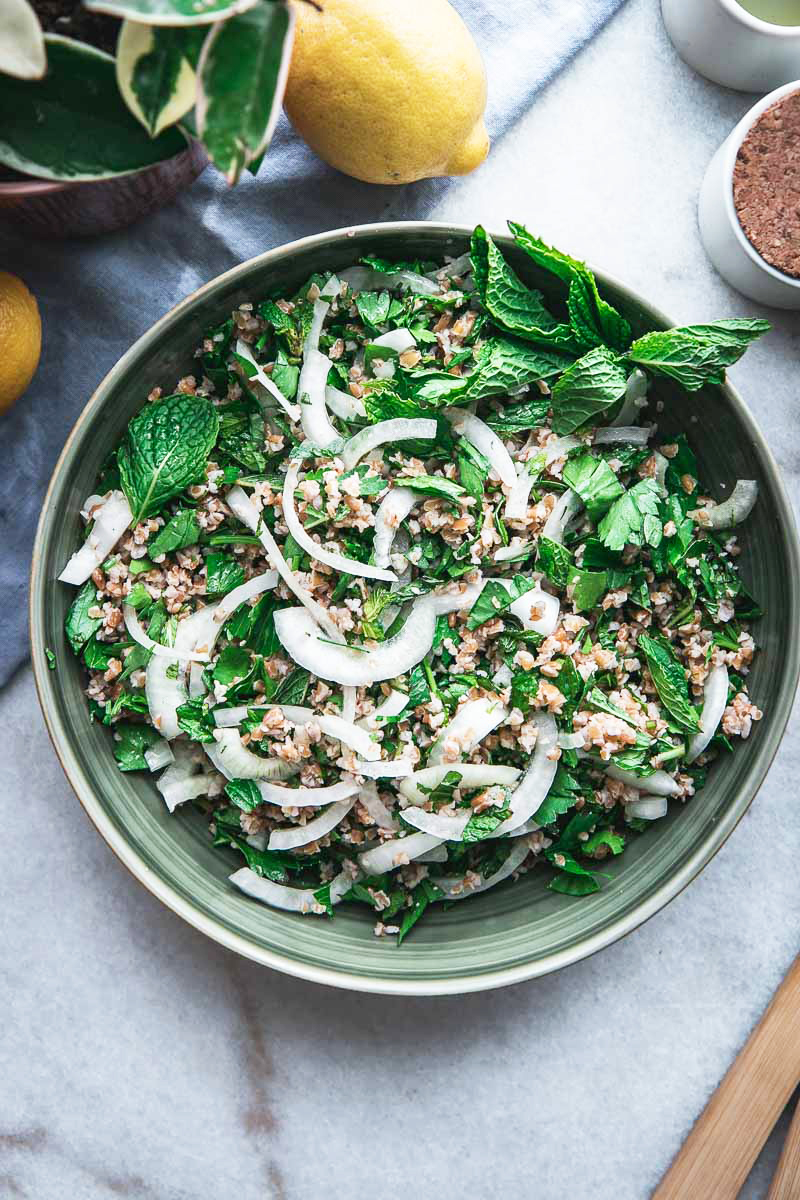 Nothing takes a salad with fresh summer vegetables to the next level like a sprinkle of fresh herbs and a drizzle of good quality olive oil. That's why one of our favorite simple salad sides is a traditional tabbouleh salad. Made with whole grains, olive oil, lots of lemon juice, and as many fresh herbs as you can fit in, tabbouleh salads are where it's at for summer picnics and platters. So simple, yet so full of flavor.
👉 Here are three reasons why you need to make this 7-ingredient bulgur tabbouleh salad:
Ready to learn how to make a summer tabbouleh salad with bulgur? Let's do it!
---
🥗 What is tabbouleh?
Tabbouleh is an herb and cracked grain salad that is traditionally made in many cultures throughout the eastern and southern Mediterranean. The recipe that is argued as "authentic tabbouleh" is typically made with fresh parsley and a small amount of soaked bulgur, as well as fresh mint, onions, olive oil, lemon juice, and salt.
👉 What are tabbouleh variations?
There are many variations of tabbouleh — and many will argue that their recipe or ingredients are the best. Some tabbouleh recipes substitute couscous for bulgur (and foodies are now using trendy quinoa), while others include additional ingredients such as finely chopped tomatoes, cucumber, garlic, and added cheese like feta.
For this Bulgur Tabbouleh recipe, we're increasing the amount of whole-grain bulgur for a more substantial salad. However, no matter the ingredients or recipe technique, if you're using copious amounts of fresh parsley, healthy olive oil, and tangy lemon juice, you can't go wrong!
---
🌾 What is bulgur?
Bulgur — sometimes referred to as burghul or groats — is a whole cereal grain made from the cracked groats of many different wheat species (typically wheat berries, oats, rye, or barley). This means that bulgur is not a gluten-free grain, so those avoiding gluten should not consume bulgur.
Bulgur is not a very common grain in most Western countries, but it is a staple crop in cultures throughout the Middle East. It is a cracked wheat, which means it is packaged as small, irregular-shaped particles that can be boiled or soaked.
👉 How do you cook with bulgur?
Cooking with bulgur wheat is super simple; the grain can be boiled (fastest), or soaked in either boiling or room temperature water (longer, but preferred method in Middle Eastern cultures). We have even seen some chefs soak the bulgur in olive oil, which completely skips the water boiling process — and makes for an amazingly rich mouthfeel.
For this Bulgur Tabbouleh recipe, we'll be soaking the bulgur in boiling water, which speeds up the process a bit but still keeps the tabbouleh preparation as traditional as possible (and saves on expensive olive oil!).
---
🌿 Ingredients
Bulgur, herbs, and spices are the primary ingredients you need to bring this tabbouleh salad together. Here's an overview of what you need for this recipe: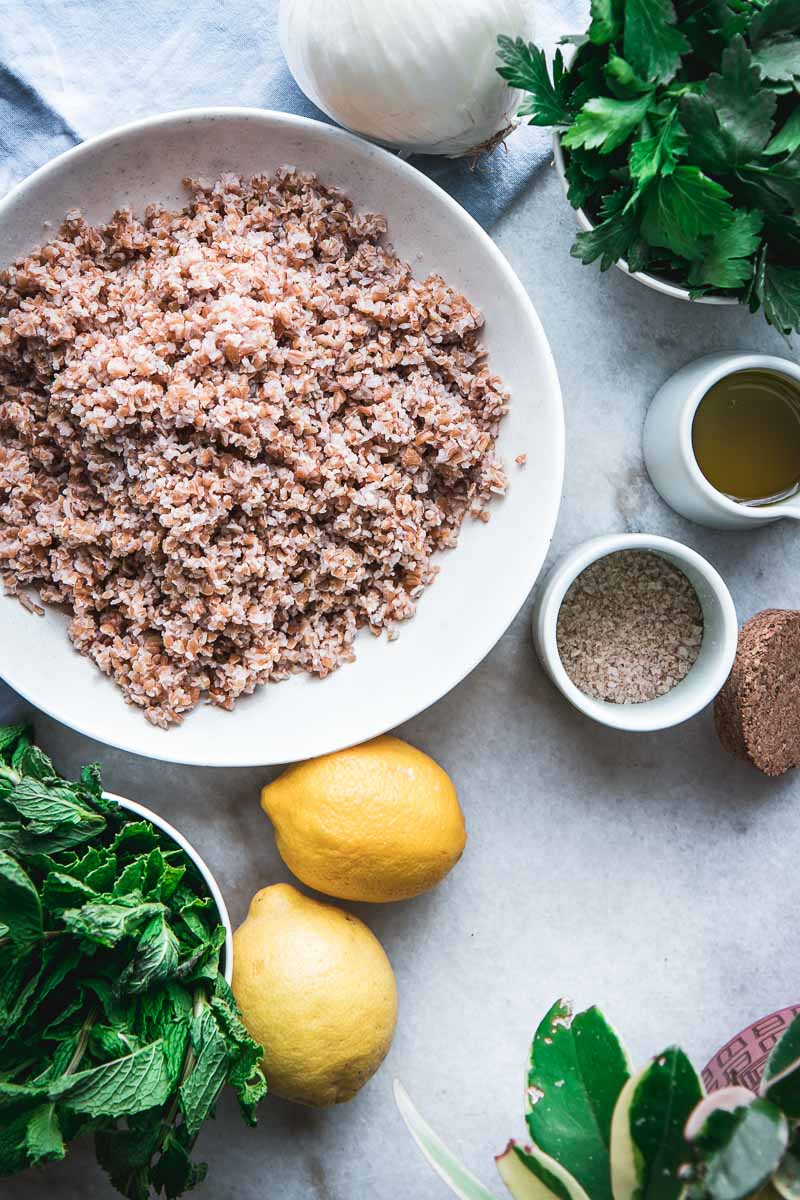 ---
🥣 How to make (step-by-step photos)
1️⃣ Step One: Soak the bulgur
First, you'll place the bulgur wheat into a shallow bowl and pour boiling water until the water covers the grain by about two inches. Then set a timer for about 45 minutes and let the bulgur soak and soften.
When the bulgur is done soaking, drain it and either let sit to dry for about 30 minutes, or you can place the soaked bulgur in a cheesecloth or small hand towel and squeeze to release more water.
---
2️⃣ Step Two: Toss bulgur with onion, herbs, + spices
Next, toss the bulgur, chopped parsley, chopped mint, very thinly sliced onion, and allspice in a large mixing bowl until well combined.
---
3️⃣ Step Three: Season + serve
Once the ingredients are tossed together, season with a little salt to taste. Drizzle the grain salad with generous amounts of olive oil and lemon juice for dressing. Serve on a plate or in a bowl and enjoy!
---
❓ Recipe questions + quick tips
Do you need to soak bulgur wheat?
Bulgur wheat should be cooked either through boiling or soaking. While boiling bulgur is the quickest way to prepare it, soaking it is how it's prepared traditionally. Bulgur can be soaked in either boiling or room temperature water. For this recipe, we soaked the bulgur in boiling water.
Is tabbouleh the same as bulgur?
Bulgur is the main ingredient used in tabbouleh, which is a traditional Middle Eastern salad that combines bulgur with fresh parsley, mint, onions, olive oil, lemon juice, and salt. Tabbouleh is the specific recipe, while bulgur is the ingredient.
What are the benefits of eating tabbouleh?
Tabbouleh features fresh, healthy ingredients that are known for their nutrient content and may provide health benefits. Bulgur is a high-fiber grain, and also provides nutrients like folate, manganese, and magnesium. Additionally, the herbs used to make the salad are a source of disease-fighting antioxidants. Tabbouleh is a nutritious addition to a healthy diet!
---
🌱 How to serve
While we love to enjoy Bulgur Tabbouleh on its own, there are so many ways that you can get creative with it. Try one of these ideas:
---
🧊 How to store
Whether you have leftovers or choose to make this recipe in advance, here are our top tips for storing bulgur tabbouleh:
Refrigerator storage: Place the salad in an airtight container in the refrigerator and use within four days.
Freezer storage: We don't recommend freezing bulgur tabbouleh salad, as it will lose its quality.
---
♻️ Sustainable kitchen tips
Sustainability is important to us here at Fork in the Road. Here are some tips to take your green kitchen to the next level with this recipe:
Buy bulgur in bulk. Skip the packaging waste and purchase bulgur in bulk, which you should be able to do at most grocery stores. It's also cheaper to buy a lot of it at once, and you can keep it on hand to use in recipes like Bulgur Tabbouleh!
Use responsibly sourced ingredients. Buy fair trade spices whenever possible, which ensures that they came from farms and companies that aim to foster better working conditions for farmworkers.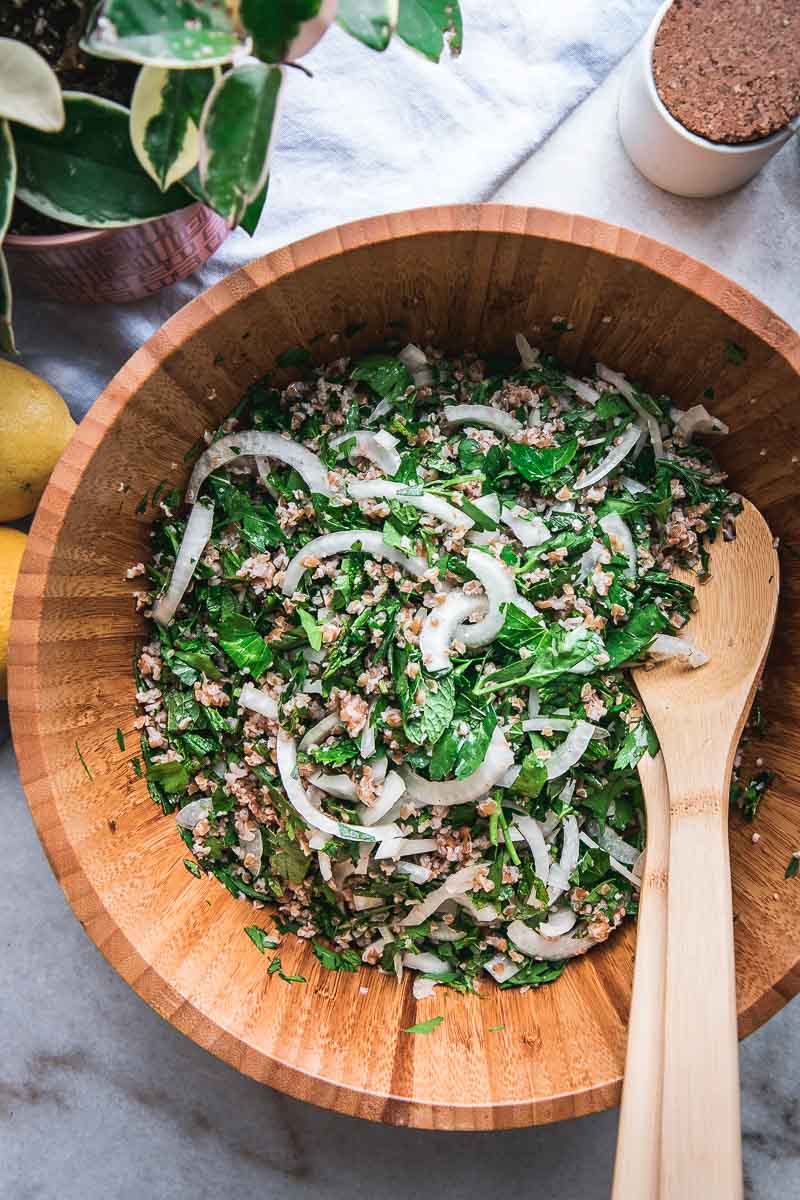 ---
👉 More grain salad recipes
Love this simple traditional tabbouleh recipe with bulgur? We've got you covered with some other recipes to try: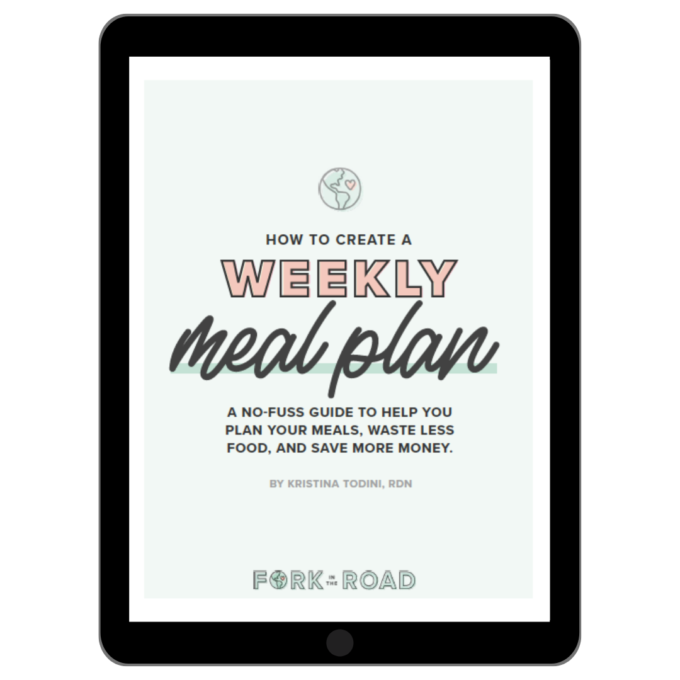 Bulgur Tabbouleh
Bulgur Tabbouleh, an easy authentic tabbouleh recipe with bulgur, fresh herbs like parsley and mint, and lemon. A simple grain and parsley salad recipe!
Ingredients
⅔

cup

dry bulgur

2

cups

boiling water

½

white onion

very thinly sliced

1-½

cups

parsley

chopped

1

cup

mint

chopped

1-½

teaspoons

allspice

⅓

cup

lemon juice

⅓

cup

olive oil

Salt to taste

Optional: cherry tomatoes

cucumber
Instructions
Cook bulgur: Put dry bulgur into a bowl and pour boiling water over it until water is 2 inches above bulgur. Let soak for about 45 minutes to one hour, or until bulgur has soaked up most of the water and is soft to the touch. Drain and squeeze in a cheesecloth or small hand towel to remove extra water.

Combine ingredients: Toss bulgur, parsley, onion, mint, and allspice in a large mixing bowl (add tomatoes and cucumber, if using). Drizzle with olive oil and lemon juice and stir to combine.

Season to taste: Add salt to taste and enjoy!
Notes
Tools Needed: large glass mixing bowls, environmentally-friendly cookware
Prep Ahead: Make bulgur up to two days ahead of tabbouleh salad preparation
Leftovers and Storage: Store bulgur tabbouleh in an airtight container in the refrigerator for up to four days.
Nutrition notes: Nutrition information calculated without addition of tomatoes and cucumber. This vegan bulgur tabbouleh recipe contains whole grains and is high in healthy plant-based fats and dietary fiber per serving.
Nutrition
Serving:
1
serving (1 cup)
Calories:
264
kcal
Carbohydrates:
24
g
Protein:
7
g
Fat:
17
g
Saturated Fat:
5
g
Polyunsaturated Fat:
12
g
Sodium:
197
mg
Fiber:
3
g
Sugar:
1
g
UPDATE: This recipe was originally published in July 2019 and was updated for clarity in October 2021.