How to Make Homemade Boozy Blackberry Lemonade
Boozy Blackberry Lemonade, a homemade spiked lemonade made with fresh summer berries and tart lemons. Perfect for hot summer afternoons!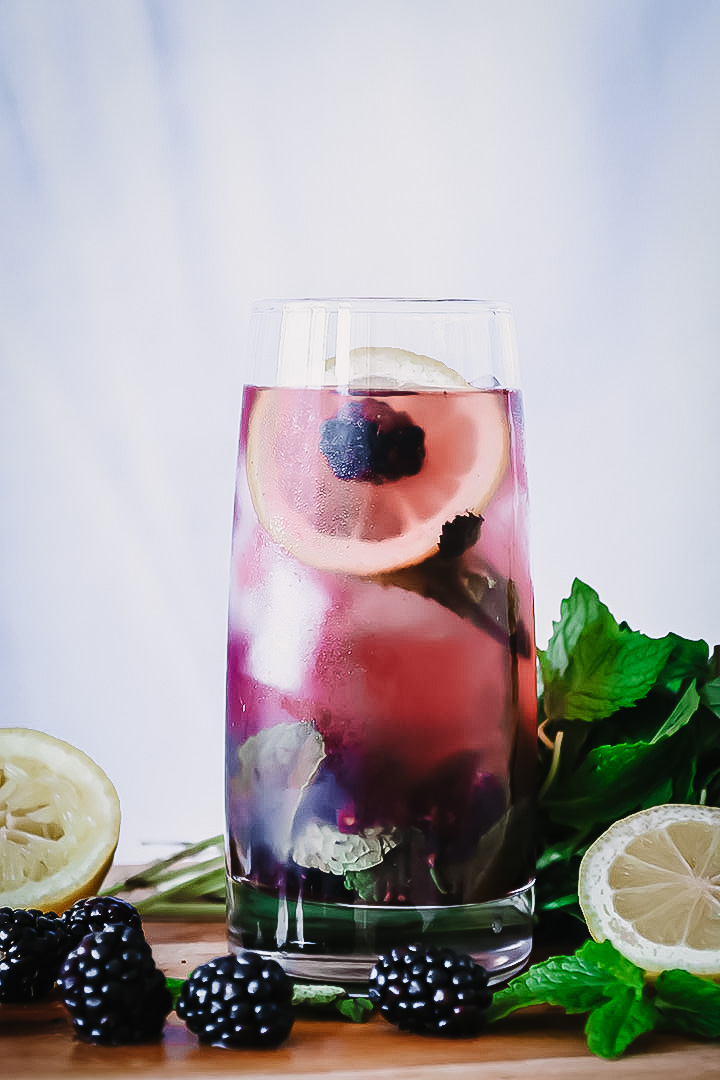 I'm a sucker for a good lemonade, because a truly good lemonade is very hard to find.
I'm not talking about the sickeningly sweet fountain lemonade you find in fast casual restaurants, I'm talking about a from-scratch lemonade made with a pound of fresh and tart lemons and a touch of sweetness.
Add fresh blackberries and a little booze and you have yourself one helluva hot Indian Summer afternoon treat.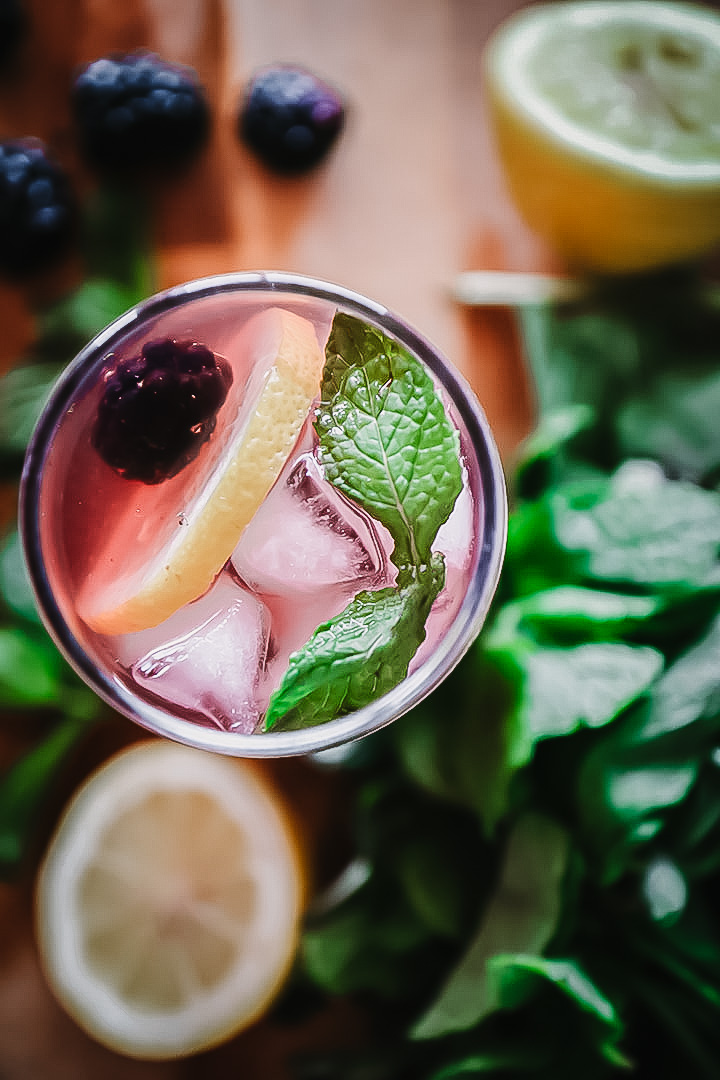 Growing up in the Midwest, spiked lemonade was a favorite treat. I remember sitting in many a backyard with my feet in a kiddie pool with the least amount of clothes on that was publicly appropriate while enjoying a fresh spiked boozy lemonade.
I must admit that at the time my taste was not as "refined;" often we were pouring pre-made, sweetened and boxed lemonade into a glass with vodka and calling it a day.
Hey, we all start somewhere.
These days I'm much more interested in making my cocktail mixers from scratch (check out my Homemade Spicy Bloody Mary Mix, for example) and this Boozy Blackberry Lemonade is no different.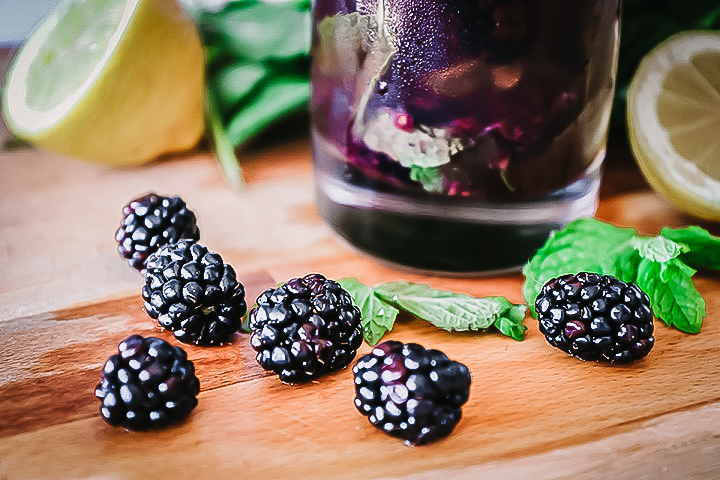 The secret to perfect homemade lemonade.
If you grew up drinking boxed and sweetened lemonade like I did, making home made lemonade can be a bit surprisingly when you realize how much sugar you need to add to make it taste the way you're used to.
Not surprisingly fresh lemons are very tart and not sweet (shocking!) and a fair amount of sugar is needed to make it palatable.
Want to know the secret to a great home made lemonade without all the sugar? Fresh fruit!
Adding fresh fruit like seasonal blackberries, blueberries, strawberries or peaches can lend a slight sweetness and round out the tart taste of fresh lemon juice. And using a naturally based sweetener like Stevia can also help if you are avoiding added sugars in your diet.
Boozy Blackberry Lemonade: Tips, Tricks & Tools
Have you ever bought a pound of fresh lemons to juice and come home only to realize you will either have severely sore hands or no lemonade? Don't make the mistake I did, invest in a lemon juicer and save yourself the sprained hands!
Lemon Squeezer: One of the easiest ways to juice fresh lemons is to usea lemon squeezer. Great for lemons and limes, getting every last drop of juice is much (much!) easier with a lemon squeezer.
Reamer: A fruit reamer is also a great tool for juicing citrus, however does require a bit more elbow grease than the squeezer.
Automatic Juicer: easy automatic juicerIf you want to save yourself all manual labor, try out this . During my bartending days we had one set up beside the bar and it was super easy to juice many lemons and limes at a time for a fresh cocktail mixer.
Having a hard time squeezing cold lemons?
If you keep your lemons in the refrigerator you may have a harder time squeezing all the juice from your fruit. Room temperature lemon fibers will release more liquid, so leave your lemons on the counter or zap them quickly (no more than 20-25 seconds) in the microwave before juicing.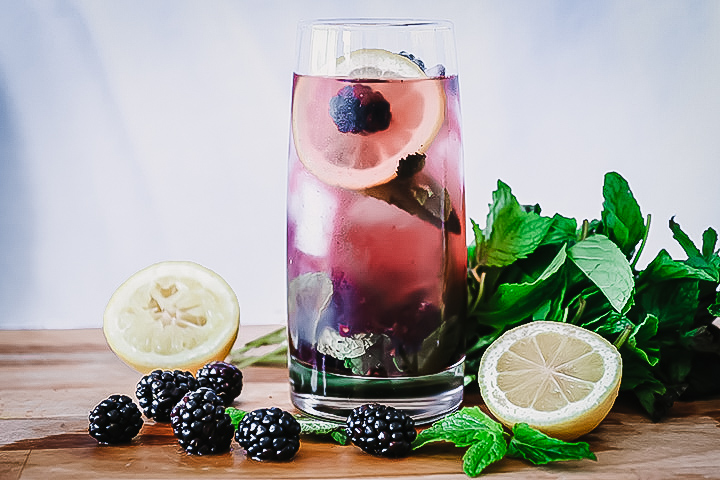 Sustainable Kitchen: What to do with fresh lemon rinds
After making this Boozy Blackberry Lemonade you will have a fair amount of fresh lemon rinds left behind. But wait, don't throw them away! There are many ways to use fresh lemon rinds in the kitchen, including:
Make a fresh lemon syrup! Use the rinds from your leftover lemons to make a simple syrup to use in future lemonade cocktails.
Grate rinds for fresh lemon zest! Lemon zest is a great flavoring for fresh veggies, as a garnish on pastas, and in smoothies or infused teas.
Keep sugar soft by adding a slice of fresh lemon peel. Did you know adding a slice of lemon rind to your sugar bowl will prevent sugar from absorbing moisture and hardening over time? Add a bit of your leftover rind to keep your sugar from becoming a clumpy mess.
There are many uses for leftover lemon peels in the kitchen, so don't trash those rinds! Being a sustainable eater and food consumer means thinking beyond just purchasing and farming, but also to how you throw your food waste away.
Saving and reusing food you otherwise think of as "trash" means you are lessening food waste and doing your part as a "green" eater. I'll drink to that!
Like this lemonade cocktail?
I love making cocktails with fresh seasonal fruit. Try my Blood Orange, Kiwi & Mint Margarita with winter citrus, my Cinnamon Apple Cider Spritzer for fall, and this Mango Berry Rosé Sangria for summer and spring.
Yield: 2 cocktails
Boozy Blackberry Lemonade
Boozy Blackberry Lemonade, a homemade spiked lemonade made with fresh summer berries and tart lemons. Perfect for hot summer afternoons!
Prep Time 10 minutes
Total Time 10 minutes
Ingredients
Juice of 6 fresh lemons
1 cup blackberries
2 teaspoons natural sweetener (agave, honey, etc.)
3 oz booze (bourbon, vodka or other alcohol of choice)
6 sprigs fresh mint
1 cup ice cubes
Instructions
In a large cocktail mixer, muddle blackberries, sweetener and fresh mint until blackberries are smashed and mint releases oils (you will smell strong mint)
Add booze and lemon juice and shake until well combined.
Pour over glasses filled with ice and serve. Enjoy!
Nutrition Information:
Yield:
2
Serving Size:
1 8 oz cocktail
Amount Per Serving:
Calories: 281
Total Fat: 1g
Saturated Fat: 0g
Trans Fat: 0g
Unsaturated Fat: 1g
Cholesterol: 0mg
Sodium: 90mg
Carbohydrates: 49g
Fiber: 13g
Sugar: 25g
Protein: 5g
We are participant in the Amazon Services LLC Associates Program, an affiliate advertising program designed to provide a means for us to earn fees by linking to Amazon.com and affiliated sites.