Boozy Blackberry Lemonade
Boozy Blackberry Lemonade, a homemade spiked lemonade made with fresh summer berries and tart lemons. Perfect for hot summer afternoons!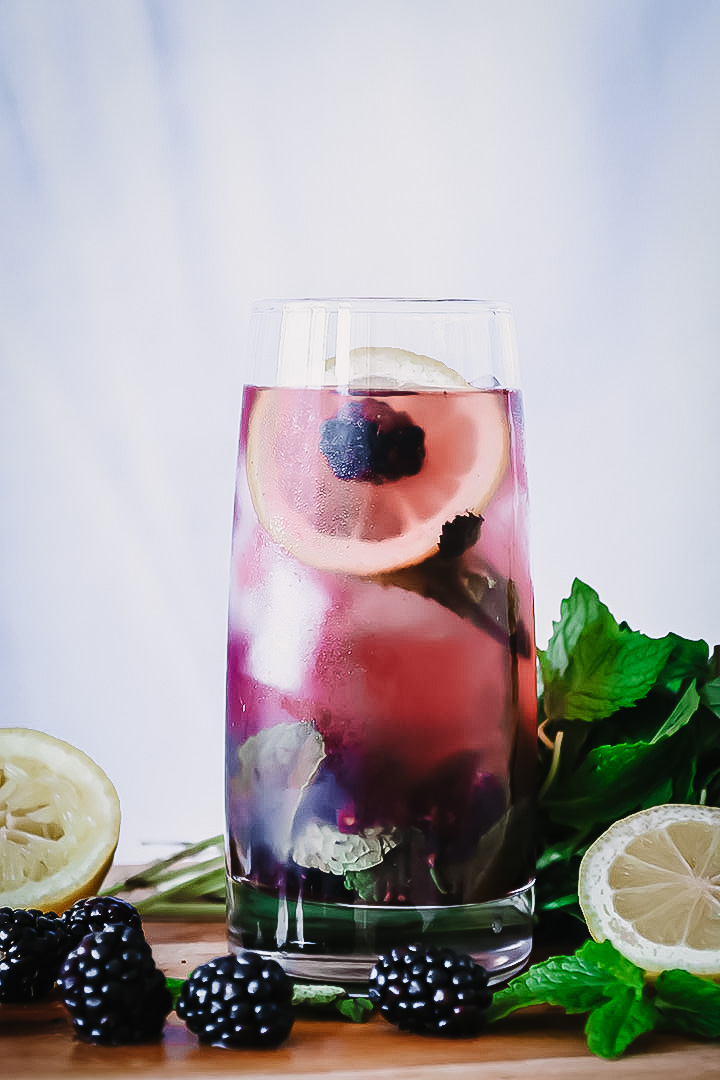 Love a hard lemonade for happy hour on hot days? So do we! This easy homemade Boozy Blackberry Lemonade mixes together fresh blackberries and mint leaves with lemon juice and your alcohol of choice for a refreshing cocktail treat.
👉 Ready to learn how to make a homemade hard lemonade with fresh berries? Let's do it!
---
🍋 Ingredients
Blackberries: fresh blackberries work best, but you could also substitute other berries as well
Fresh mint: mint leaves add a fresh pop of flavor, you could also add a small amount of mint oil if you don't have fresh herbs
Sweetener: we like agave syrup or maple syrup, but simple syrup can work as well
Lemon juice: the base of this lemonade, use fresh squeezed (about 6-8 lemons) or bottled
Alcohol: vodka is our liquor of choice for hard lemonades, but bourbon is also tasty
Ice and garnish: ice to chill the drink; blackberries, mint, and lemon slices for garnish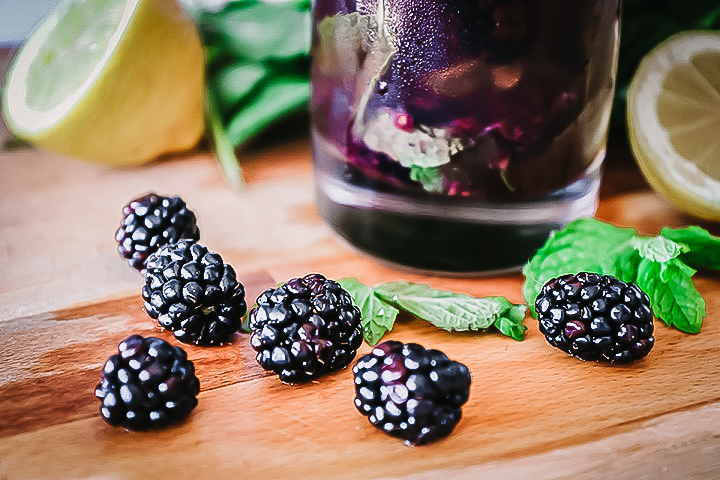 ---
🧊 How to make (step-by-step photos)
1️⃣ Step One: Muddle blackberries and mint
The first step to making this cocktail is to muddle the fruit and the mint.
To do this, add the blackberries, fresh mint leaves, and a sweetener of your choice – we like agave or maple syrup, but simple syrup also works.
Then, using a muddler, smash the blackberries and mint until the berries release their juices and the mint releases its oils (you'll know this has happened when the mint scent becomes very strong).
---
2️⃣ Step Two: Build the boozy lemonade cocktail
Next add your favorite alcohol to the cocktail share, along with the fresh lemon juice. Cover the cocktail shaker with a lid or another glass and shake well until everything is combined.
---
3️⃣ Step Three: Garnish and serve
To serve, simply pour ice into a glass and then strain the cocktail into the glasses. Then garnish with a blackberry, a mint leaf, and a slice of lemon before enjoying this tasty lemonade drink!
---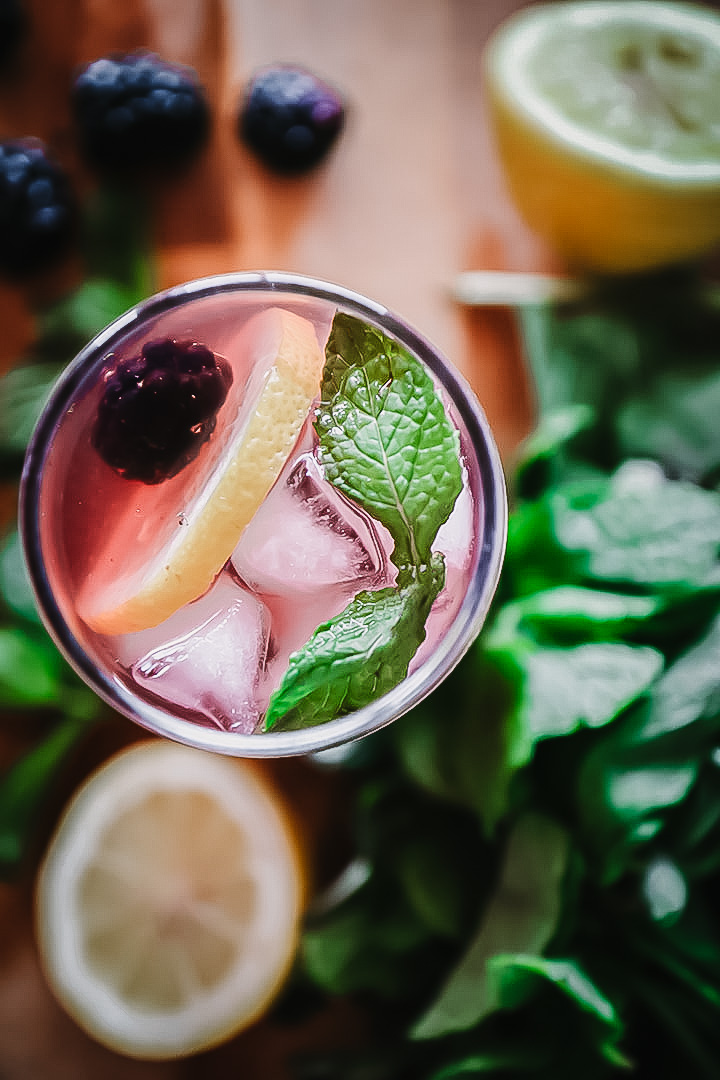 👉 Make it a pitcher
Want to make a pitcher or hard lemonade? Simply increase the servings in the recipe card below to be 10 or 12 servings, which will be the proper amounts needed to make enough for a pitcher.
Here are the amounts for 1 servings versus a 10-serving pitcher:
1 serving: 1/2 cup berries, 3 sprigs mint, 1 teaspoon sweetener, 1/2 cup lemon juice, 1.5 ounces liquor, 1/2 cup ice cubes
10 servings: 2.5 cups berries, 30 sprigs of mint (about 1 bunch), 3 tablespoons sweetener (but more to taste, if needed), 2.5 cups lemon juice, 15 ounces liquor (about 2 cups), fill pitcher with ice as needed
---
❓ Questions and quick tips
What type of alcohol should you use for a lemonade cocktail? We suggest using vodka for spiked lemonade, and for this recipe we recommend using a plain vodka without flavoring since the blackberries and mint lend a lot of flavor on their own. But also really like bourbon as well for a Southern-style hard lemonade. Mix it up to find your favorite!
Tip for getting the most lemon juice from fresh lemons: If you keep your lemons in the refrigerator you may have a harder time squeezing all the juice from your fruit. Room temperature lemon fibers will release more liquid, so leave your lemons on the counter or zap them quickly (no more than 20-25 seconds) in the microwave before juicing.
---
🥃 Mixology tools you need
Lemon Squeezer: One of the easiest ways to juice fresh lemons is to use a lemon squeezer. Great for lemons and limes, getting every last drop of juice is much (much!) easier with a lemon squeezer.
Reamer: A fruit reamer is also a great tool for juicing citrus, however does require a bit more elbow grease than the squeezer.
Automatic Juicer: If you want to save yourself all manual labor, try out this easy automatic juicer. During my bartending days we had one set up beside the bar and it was super easy to juice many lemons and limes at a time for a fresh cocktail mixer.
---
♻️ Sustainable kitchen tips
After making this lemonade you will have a fair amount of fresh lemon rinds left behind. But wait, don't throw them away! There are many ways to use fresh lemon rinds in the kitchen, including:
Make a fresh lemon syrup! Use the rinds from your leftover lemons to make a simple syrup to use in future lemonade cocktails.
Grate rinds for fresh lemon zest! Lemon zest is a great flavoring for fresh veggies, as a garnish on pastas, and in smoothies or infused teas.
Keep sugar soft by adding a slice of fresh lemon peel. Did you know adding a slice of lemon rind to your sugar bowl will prevent sugar from absorbing moisture and hardening over time? Add a bit of your leftover rind to keep your sugar from becoming a clumpy mess.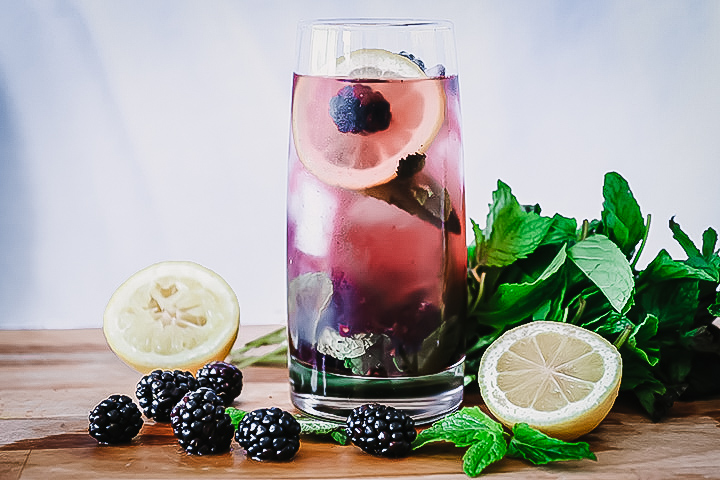 ---
🍹 More fruity cocktail recipes
Want more cocktail recipes with fresh fruit? We've got you covered: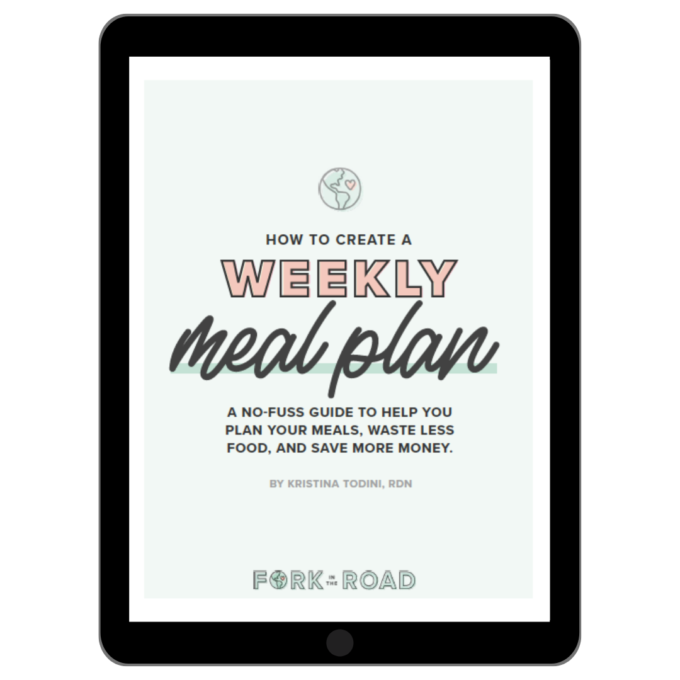 Boozy Blackberry Lemonade
Boozy Blackberry Lemonade, a homemade spiked lemonade made with fresh summer berries and tart lemons. Perfect for hot summer afternoons!
Ingredients
½

cup

blackberries

3

sprigs

fresh mint

1

teaspoon

sweetener

agave, maple, simple syrup, etc.

1.5

ounces

vodka

or bourbon

½

cup

ice cubes

Garnish:

blackberries, mint, lemon slices
Instructions
Muddle fruit: In a large glass or cocktail mixer, muddle blackberries, sweetener of choice, and fresh mint until the blackberries are smashed and release their juice and the mint releases its oils (you will smell the mint when this happens).

Build lemonade cocktail: Add alcohol of your choice and lemon juice to the cocktail mixer. Cover and shake well until the ingredients are well combined.

Garnish and serve drink: Pour ice into two glasses and then strain the cocktail into the glasses. Garnish with a blackberry, a mint leaf, and a slice of lemon. Enjoy!
Notes
Which alcohol should you choose? We love boozy lemonades with vodka, but bourbon is also another great liquor choice that will add a southern flair to your spiked lemonade.
Make it a mocktail: Avoiding alcohol? Skip the liquor in this recipe and instead add 1/2 cup of water to dilute the lemon juice to make this a simple lemonade mocktail.
Nutrition notes: Nutrition information was calculated with simple syrup as the sweetener, and without garnishes.
Nutrition
Serving:
1
serving
Calories:
150
kcal
Carbohydrates:
12
g
Protein:
1
g
Fat:
1
g
Saturated Fat:
1
g
Polyunsaturated Fat:
1
g
Monounsaturated Fat:
1
g
Sodium:
12
mg
Potassium:
139
mg
Fiber:
4
g
Sugar:
9
g
Vitamin A:
282
IU
Vitamin C:
16
mg
Calcium:
33
mg
Iron:
1
mg
UPDATE: This recipe was originally published in April 2018 and was updated for clarity in May 2022.