Blackberry Thyme Spritzer
Blackberry Thyme Spritzer, a 4-ingredient sparkling water spritz recipe featuring summer blackberries and fresh thyme. Made with or without alcohol, this bubbly beverage is a simple summer treat!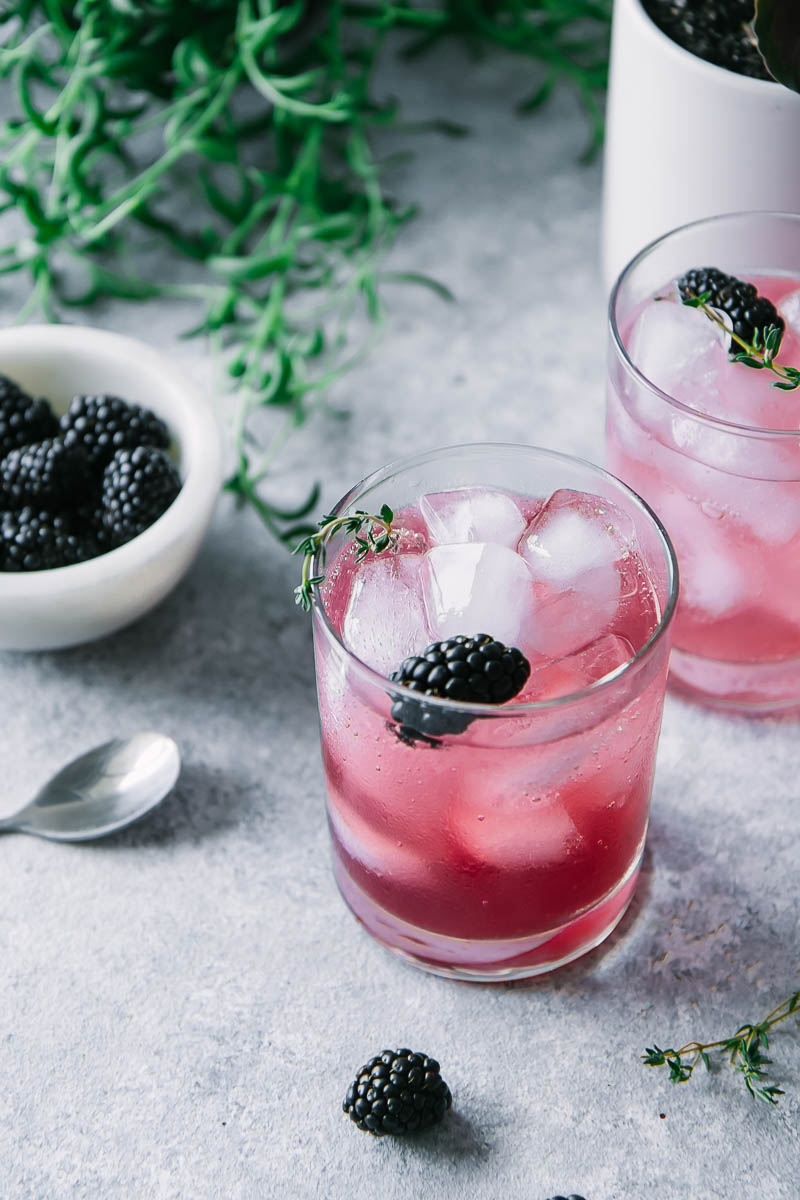 Are you a sparkling water addict? So are we! There's nothing like a chilled sparkling drink to cool off in warm weather, but we hate buying packaged sparkling water and decided to make our own homemade fruit-flavored spritzer — no package waste required.
👉 Here are three reasons why you should make your own flavored sparkling waters at home:
It's easy. Simply muddle fruit like blackberries with herbs like thyme and you have a flavorful sparkling water in 10 minutes flat.
It's healthy. Forgot added sugars or added natural flavors, this recipe is simply fruit, herbs, and sparkling water.
It's eco-friendly. Forget boxes and cans of flavored sparkling waters, this recipe eliminates package waste for a more sustainable sip.
Ready to learn how to make a homemade blackberry thyme water spritzer? Let's do it!
---
🌿 Ingredients + substitutions
This flavored sparkling water is about as easy as it gets, but here are a list of ingredients, substitutions, and variation ideas:
Blackberries: The base fruit flavor is muddled blackberries, but any berries will work (try our favorite strawberry mint spritz). We're also topping off the drink with a few blackberries as a garnish.
Thyme: The earthy notes of thyme pair perfectly with sweet blackberries, but other herbs like basil, mint, and even oregano would be delicious as a substitute.
Sparkling water: Plain sparkling water is key for a spritzer, as it allows the fruit and herb flavors to shine through. We like reducing packaging waste by using our Soda Stream for easy homemade sparkling water any time.
Sweetener (optional): While we like our spritzers without added sugar, if you like a touch of sweet we suggest brown sugar or maple syrup to add a touch of sweetness.
Recommended tools: small saucepan, fine mesh strainer, cocktail spoon for stirring
---
🥣 How to make (step-by-step photos)
1️⃣ Step One: Cook fruit + herbs
First, add blackberries and herbs to a small saucepan and cook over low heat to release the fruit's liquids and infuse it with the herbs.
The blackberries will release their juices after they are heated, about five minutes, and they can be smashed with a spoon to help speed up the process. You can also add a sweetener at this point if you'd like a sweeter juice.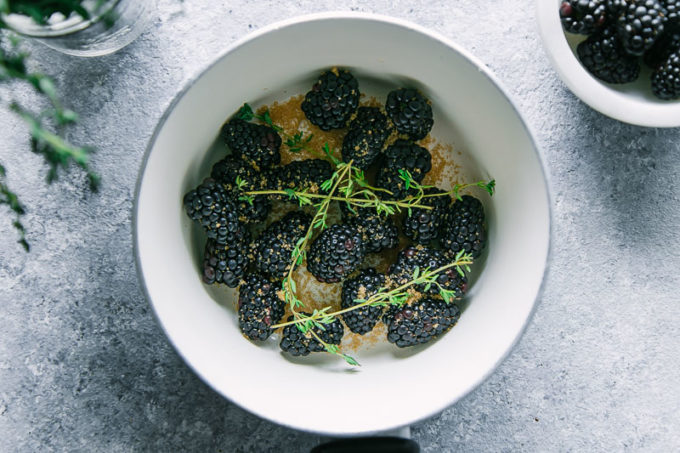 ---
2️⃣ Step Two: Strain the fruit puree
Once the blackberries and herbs have cooked, remove the thyme twig and pour the fruit puree through a mesh strainer (or a regular strainer with small holes for the liquid to go through) into a small bowl or mug.
If you like a pulpy drink, you can skip this step and add the fruit directly to the water, though this will leave large pieces of fruit inside your spritzer.
---
3️⃣ Step Three: Add the fruit juice + sparkling water to a glass
Finally, pour the sparkling water over ice and then add the infused blackberry thyme juice or puree over the top, stirring to combine.
Garnish with blackberries and extra thyme sprigs and enjoy your homemade fruit-infused sparkling water!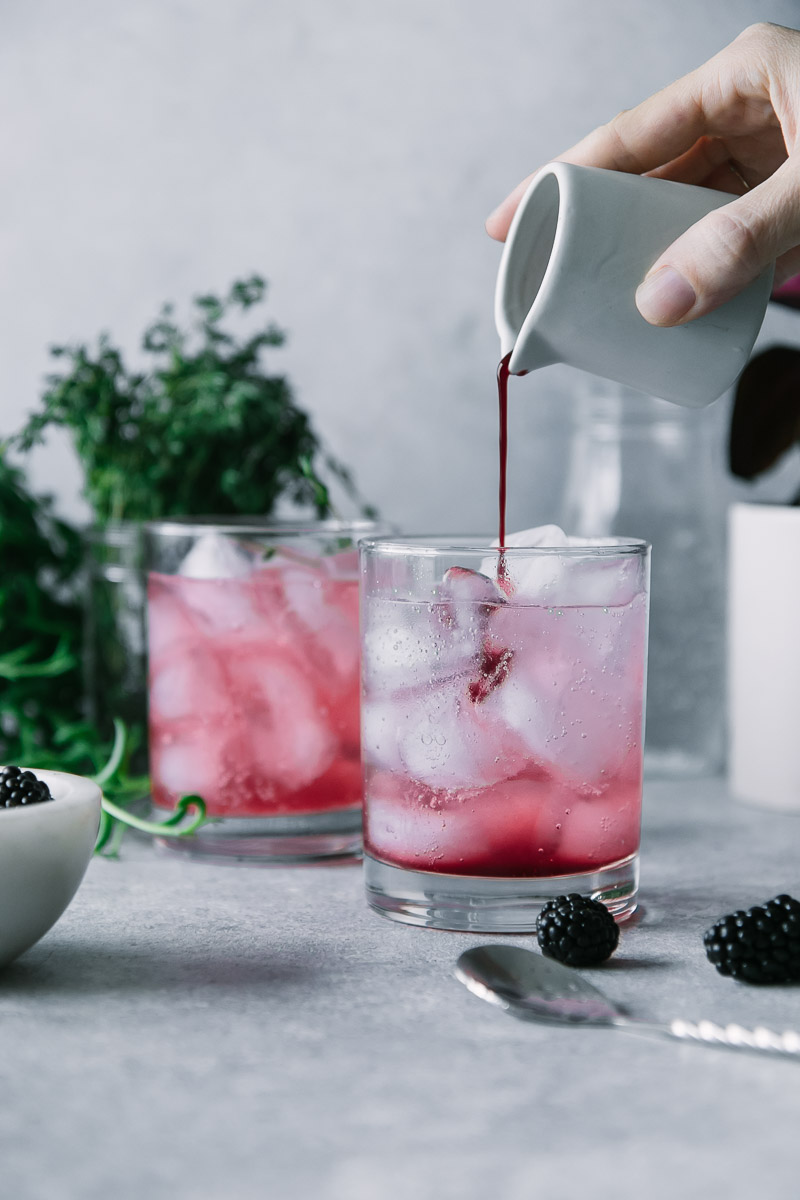 ---
❓ Recipe questions + quick tips
What is a spritzer?
A spritzer, also known as a "spritz," is a chilled drink made with sparkling mineral or soda water. Sometimes the name spritzer can mean a wine spritzer, which is a white wine and sparkling water cocktail. However, the term also refers to any chilled bubbly drink made from sparkling beverages, whether they have alcohol or not.
What is a water spritzer?
A water spritzer is a drink made from sparkling mineral water and is usually flavored with fresh fruit and herbs.
Can you make this spritzer recipe with alcohol?
While this blackberry thyme spritzer is made alcohol-free as a mocktail, you can make this a cocktail by adding 1 ounce (30 milliliters) of your favorite spirit (we suggest vodka or gin, but rum would be tasty as well).
---
🧊 How to store
We suggest whipping up a big batch of the fruit puree to pour into sparkling water all week long! Here are our tips for storing this mocktail:
If making for later, do not mix until ready to serve. Because sparkling water will loose its carbonation after it has been opened or poured, we suggest making a batch of the fruit puree separately and then not mixing the spritzer until its ready to serve.
Refrigerator storage: Store the fruit puree in an airtight, pourable container in the refrigerator for up to 4-5 days and pour when ready to serve.
Freezer storage: You can also store extra fruit puree by freezing and then thawing when you are ready to use. Simply freeze in an airtight container or freeze in silicon ice trays (affiliate link) and then thaw them out when you're ready to use (or use them as ice inside your sparkling water!).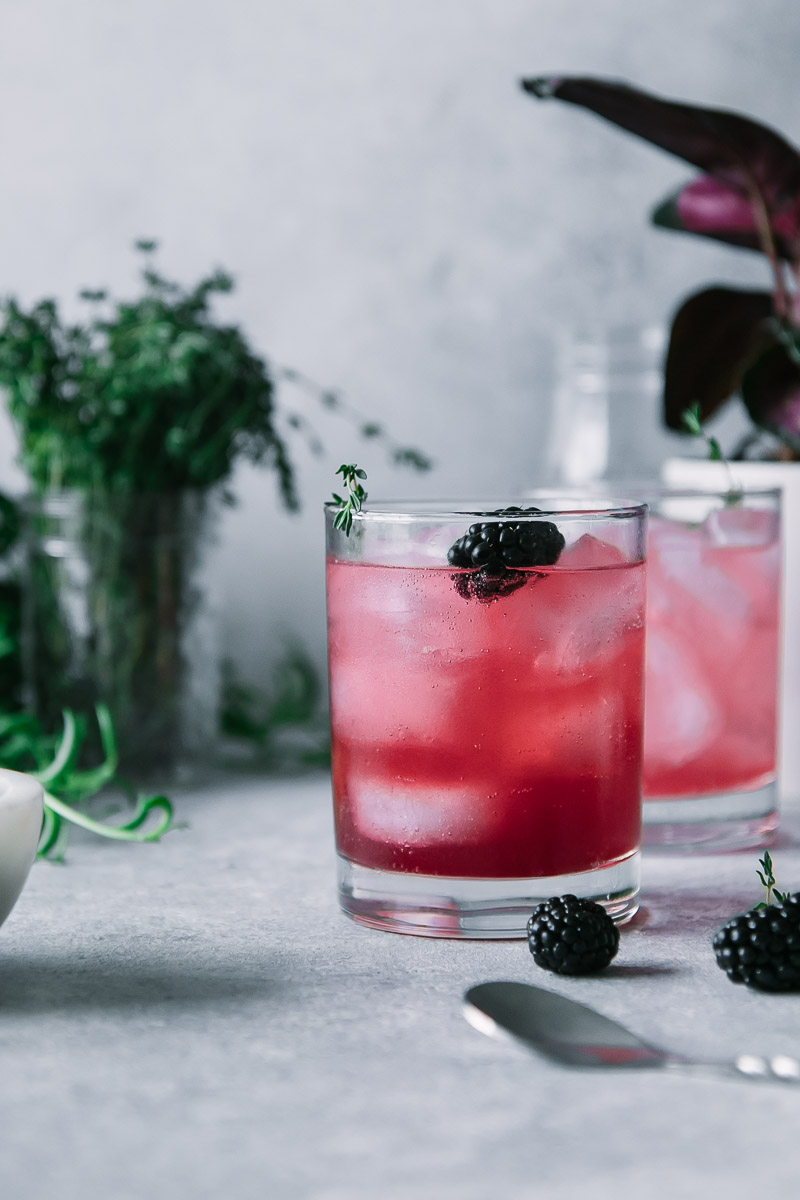 ---
♻️ Sustainable kitchen tips
We're all about being eco-friendly in the kitchen here at Fork in the Road, so here are our tips for making this recipes sustainable:
Take advantage of blackberry season. While this recipe can be made with frozen blackberries, we suggest taking advantage of the tastiest fruit during blackberry season, which is in mid to late summer in most areas of the world.
Don't toss your fruit puree after straining! Save the leftover puree after straining and add it to fruit smoothies, your morning oatmeal bowl, or even freeze it into tasty fruit ice.
Choose waste-free sparkling water. We LOVE sparkling water, but hate buying cases of cans in cardboard boxes. Instead we opted for a SodaStream (affiliate link), which reduces packaging waste and lets us make our own sparkling water for when a bubbly craving starts.
---
💧 More fruit spritzer recipes
Looking for more fruit-flavored spritzer recipes? We've got you covered:
Blackberry Thyme Spritzer Recipe
Blackberry Thyme Spritzer, a 4-ingredient sparkling water spritz recipe featuring summer blackberries and fresh thyme. Made with or without alcohol, this bubbly beverage is a simple summer treat!
Ingredients
1

cup

blackberries

+4 blackberries for garnish

6

sprigs

fresh thyme

2

teaspoons

brown sugar

16

ounces

sparkling water

unflavored

1

cup

ice
Instructions
Cook fruit and herbs: To a small saucepan add blackberries, 4 sprigs of thyme, and brown sugar and cook on low heat until blackberries soften, about 5 minutes. Using a fork or spoon, mash each blackberry to release its juice and cook a few minutes more until the blackberry juice is infused with the thyme and the brown sugar is well combined with the liquid.

Strain juice: Pour infused blackberry mixture through a small strainer or cheesecloth over a small bowl. Keep the blackberry pulp if you'd like to add to the spritzer (or freeze for smoothies).

Mix spritzer: Finally, pour half the sparkling water over ice and then add 1 ounce (30 ml) of the infused blackberry thyme juice. Garnish with blackberries and extra thyme sprigs.
Notes
Notes: build spritzer with sparkling water first, then pour in juice slowly so the water does not foam and overflow. If you add the juice or puree first and then the sparkling water will likely cause the water to overflow from glass (we tried it both ways and it worked better by adding sparkling water first).
Sustainability tips: don't throw away the blackberry pulp! Freeze to use in smoothies or keep on hand to add to oatmeal or pancakes.
Tools needed: small sauce pans, small strainer
Prep ahead: make infused blackberry juice up to a week ahead of time and pour in sparkling water when ready to serve.
Leftovers and storage: Because sparkling water loses its effervescence quickly, we recommend making puree ahead of time but not mixing until ready to serve. Fruit puree can be stored in the refrigerator for up to one week and can be frozen for up to one month and then thawed before use.
Nutrition notes: Nutrition information for this recipe includes the total nutrition if you use the leftover fruit pulp. This summer spritz recipe is very low in calories, is low in added sugar, and is a great alternative to plain water and artificially flavored drinks. The nutrition information below was calculated with added sweetener, however you can omit the brown sugar completely if you do not want any sweetness in your spritzer.
Nutrition
Serving:
1
serving
Calories:
49
kcal
Carbohydrates:
12
g
Protein:
1
g
Fat:
1
g
Saturated Fat:
1
g
Polyunsaturated Fat:
1
g
Monounsaturated Fat:
1
g
Sodium:
56
mg
Potassium:
145
mg
Fiber:
4
g
Sugar:
7
g
Vitamin A:
297
IU
Vitamin C:
20
mg
Calcium:
51
mg
Iron:
1
mg
UPDATE: This recipe was originally posted in June 2019 and updated with clearer instructions in July 2021.