Crispy Baked Radish Greens Chips
Crispy Baked Radish Greens, a delicious crunchy baked leafy greens snack that can be made in only 10 minutes. Don't let those radish leaves go to waste, turn them into crispy baked chips instead!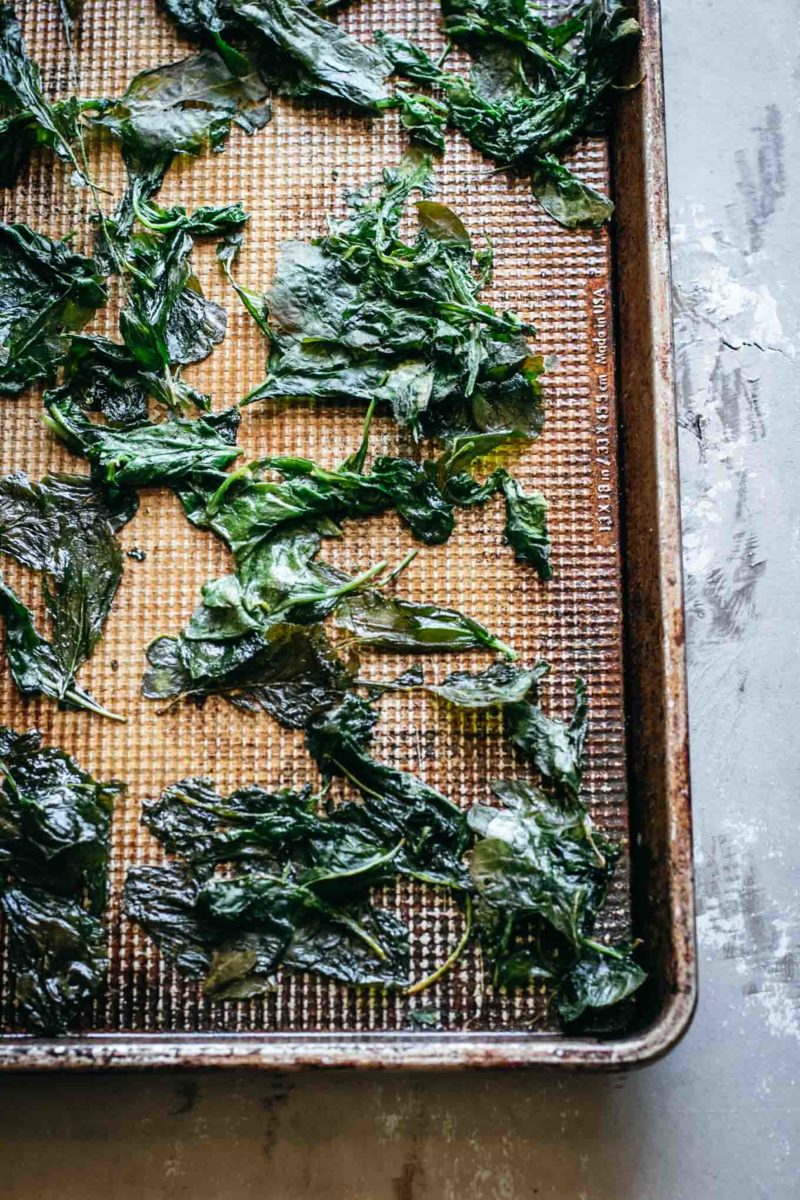 Craving something crunchy? We've got the perfect snack for you: roasted radish greens! Like kale chips, radish leaves turn into a tasty, crispy snack when baked. You can enjoy them on their own or add to a salad for extra crunch. Not only is this recipe delicious, roasting radish greens is a great way to cut back on food waste (and they're healthy, too)!
👉 Here are three reasons why you should be using radish leaves to make crunchy chips:
They're simple and versatile. Making roasted radish tops takes just a few steps and ingredients. After a quick wash to remove the dirt, all you need to do is coat the greens in spices and oil, and bake in the oven until crispy. You can add them to just about anything for extra flavor and crunch.
It's budget friendly. You can make an oven-baked snack from leafy greens on your own for a fraction of the price of what you'd find at the store.
It's good for the planet. This recipe is a great way to use up radish greens that you're looking for something to do with (other than throwing in the compost bin)!
Ready to learn how to make your own dehydrated radish greens? Let's do it!
---
🌿 Ingredients + tools you'll need
Radish Greens: Yes, you can eat the leaves of radishes! Radish greens have a spinach-like taste and turn into a crisp snack when roasted. After cutting them from the radish root, they need to be washed and dried before baking them off in the oven.
Oil: Any oil with a high smoke point, like canola or olive oil, works great for roasting radish leaves (we used olive oil in this recipe). Similar to fried chips, oil lends the crunch to greens when you roast them.
Spices: A little salt and pepper is sprinkled over the radish leaves before roasting. You can add other seasonings of your choice to them, like garlic powder or nutritional yeast.
Tools you'll need: A few tools are needed to make this recipe, including a baking sheet, mixing bowl, and spatula. To save time, you can skip the bowl and toss the greens with oil directly on the baking sheet.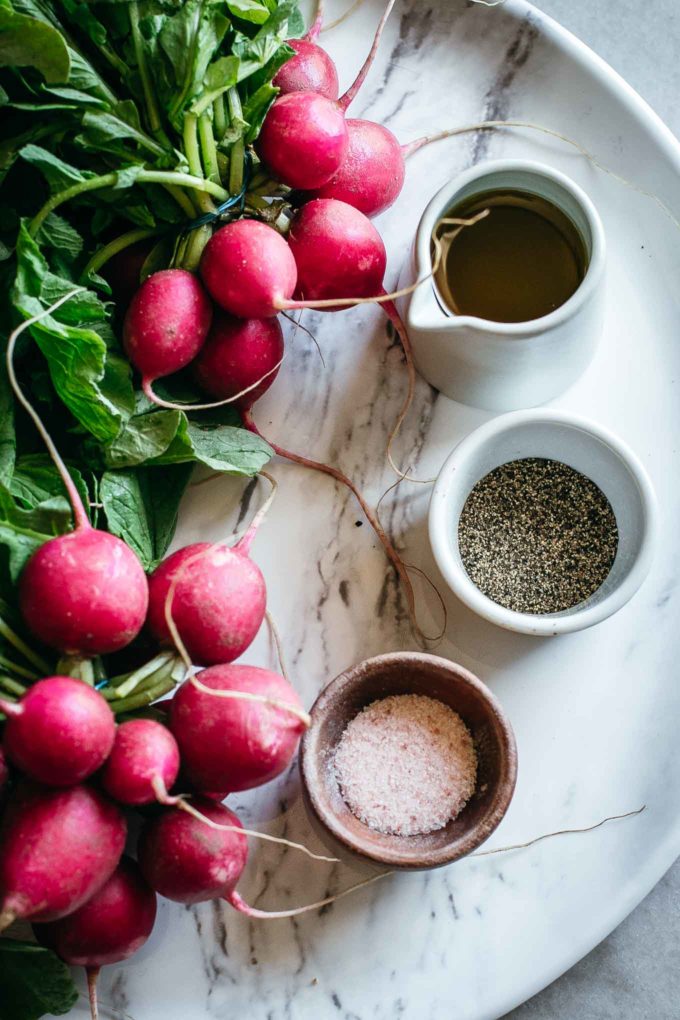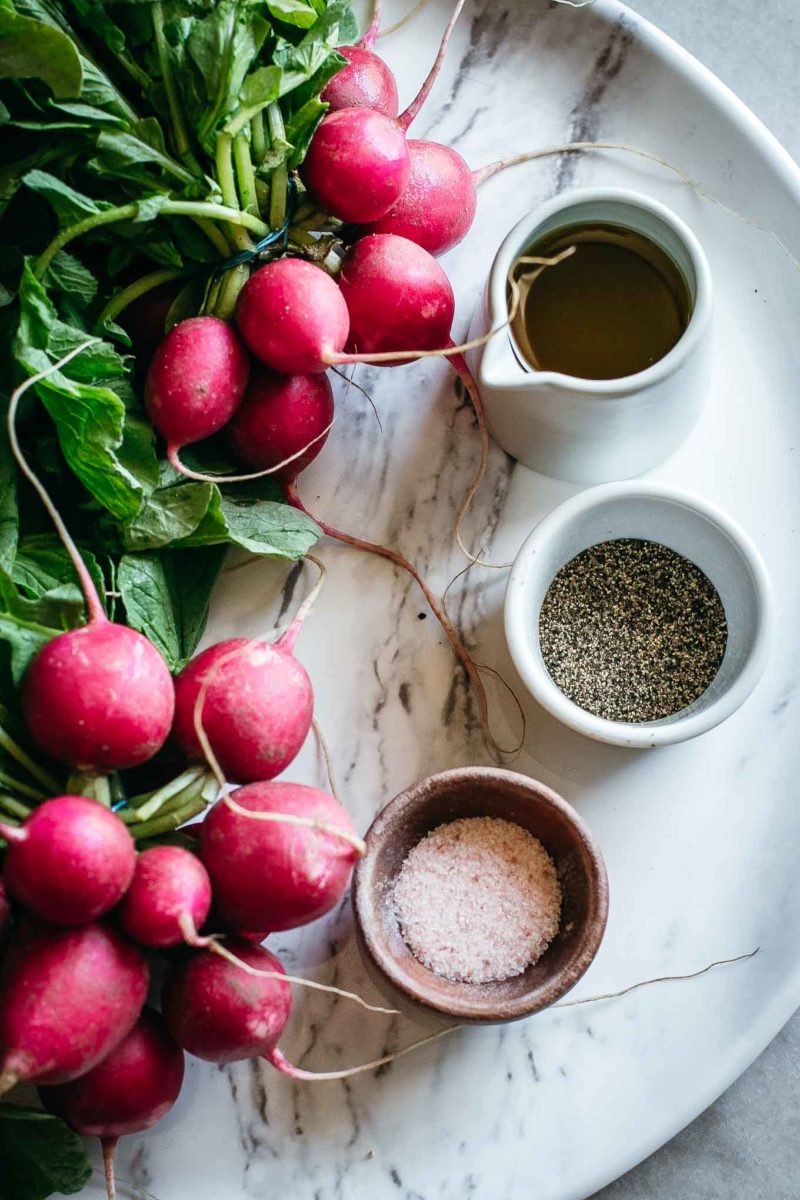 ---
🥣 How to make (step-by-step photos)
1️⃣ Step One: Wash and prep radish leaves
Start by cutting the greens from the radish root, then cut off the stiff stems right under where the greens start to grow.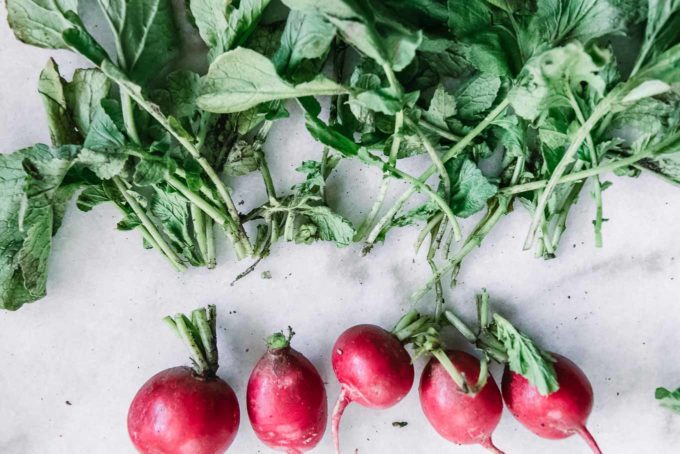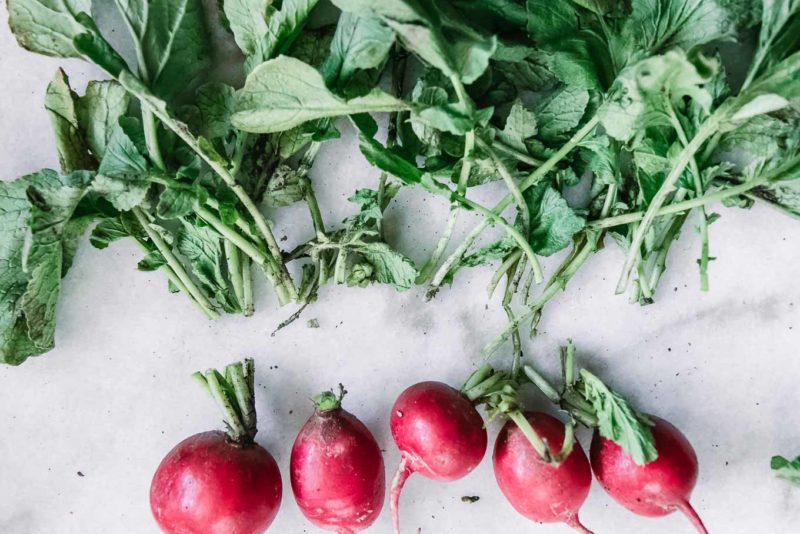 Submerge the radish stems for a few minutes in a large bowl of cold water. Stir and move the leaves around in the water with your hands to remove as much dirt as you can.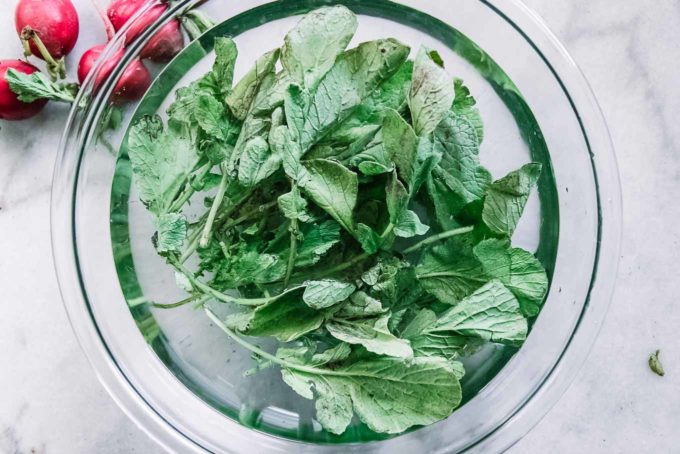 Take the leaves out of the water. You can dry them using a salad spinner or lay flat to dry (this will take about 15 minutes). Once they're dry, place them into a bowl.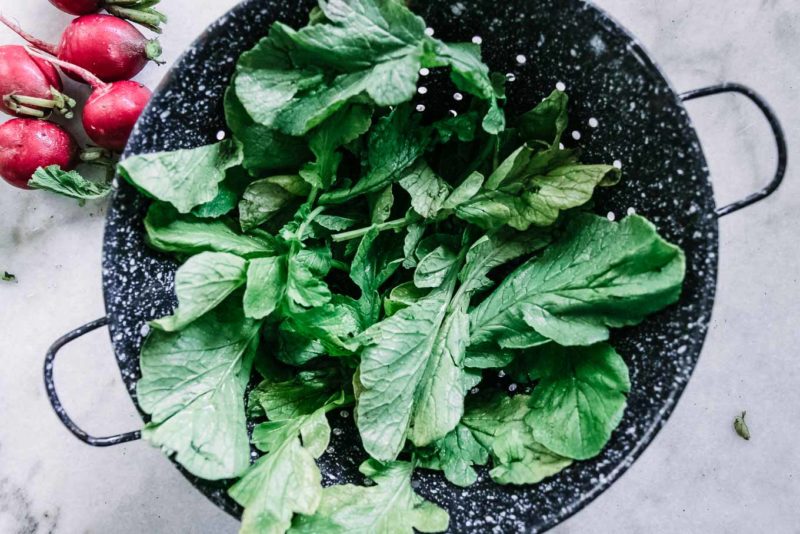 👉 Pro Tip: Check out our full step-by-step guide to washing, drying, and storing radish tops for cooking. And learn how to store radishes in the fridge, freezer, and even in your cellar to keep them fresh.
---
2️⃣ Step Two: Preheat the oven + prep the greens
Now that the greens are dry, it's time to prep them for roasting! Preheat your oven to 400° F (200° C).
While the oven is preheating, place the radish leaves and 2 teaspoons olive oil into a medium mixing bowl. Using your hands, massage them to coat completely in oil.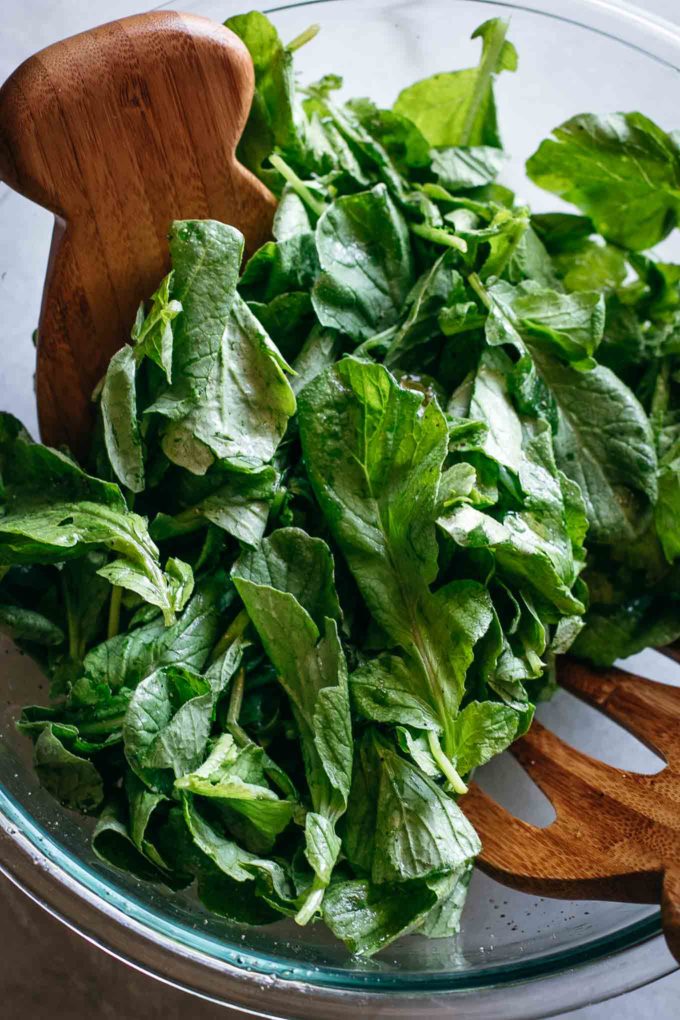 Use the rest of the olive oil to grease a baking sheet, then add oiled greens and add a pinch of salt and pepper. Add your favorite flavors and spices, like garlic powder, nutritional yeast, or a small amount of lemon juice.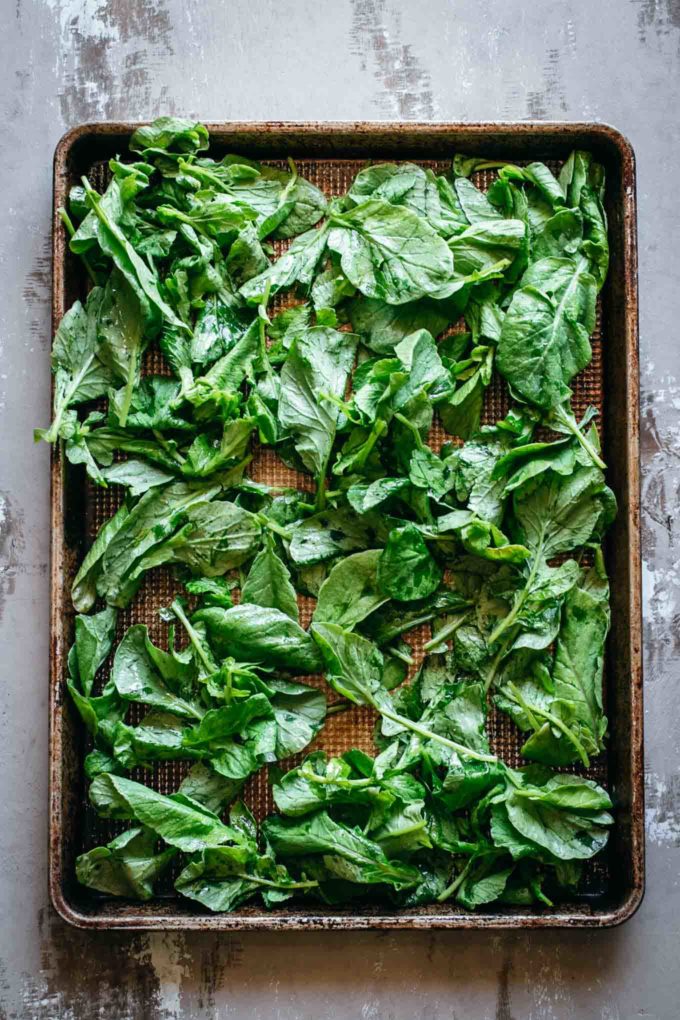 ---
3️⃣ Step Three: Bake the radish leaves
Place the baking sheet into the oven and bake radish tops for 8-10 minutes. You will want to flip the leaves halfway through baking to make sure they get crispy on all sides.
Once the greens are completely crispy, take them out of the oven. Eat them right away for the best flavor. Enjoy!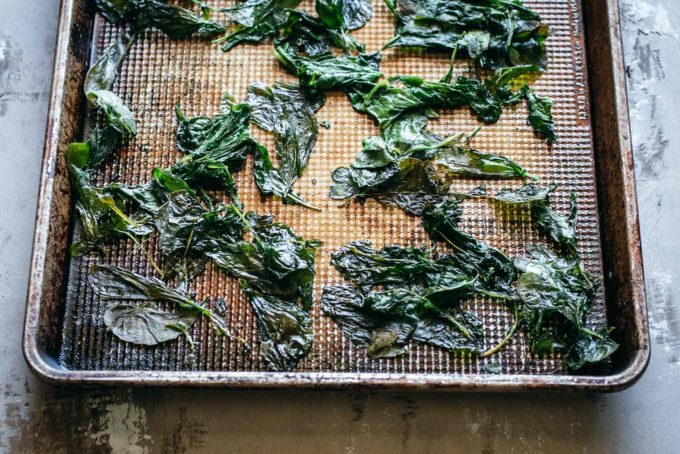 ---
❓ Recipe + radish greens questions
Can you do anything with radish greens?
Radish greens are edible and can be used in salads, in sauces like pestos, blended into smoothies, or cooked into soups. Radish greens can also be sautéed in a pan or baked into crispy chips.
What greens can be baked similar to kale chips?
You can use beet greens, chard leaves, radish leaves, and even collard greens to make baked leafy greens chips. Bok choy, broccoli greens, brussels sprouts, and mustard greens are also great kale chips alternatives.
Can you eat the green leaves of radishes?
The green leaves of radishes are edible. Before eating, you will want to wash them well to remove any dirt. Some types of radish greens have a fuzzy texture that's undesirable for some people. However, this can be removed by cooking them.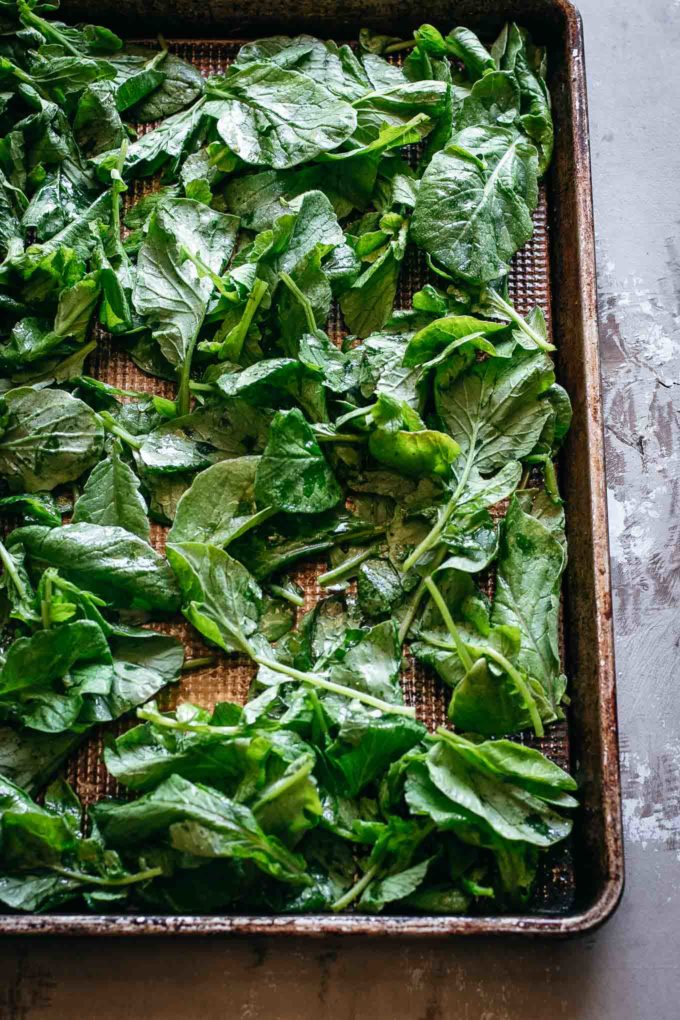 ---
♻️ Sustainable kitchen tips
You're reducing food waste just by using radish leaves and not throwing them out, but here are a few ways to increase its sustainability factor:
Make it during radish season! Radishes are a cool-season veggie. Their peak season is usually during the spring, but you can typically find them year round in most parts of the US. To find out when they're in season near you, check out Seasonal Food Guide's produce seasonality calendar.
Keep the scraps: There's always a use for veggie scraps, whether you cook them into a soup or sauce, or use them to make stock. At the very least, radish scraps should be tossed into the compost bin.
Store cut stems in water: Water helps keep radish stems and leaves from wilting. If you plan to cut the greens from the roots before using them for this recipe, place the stems in a glass of water and store in the refrigerator for up to 3 days.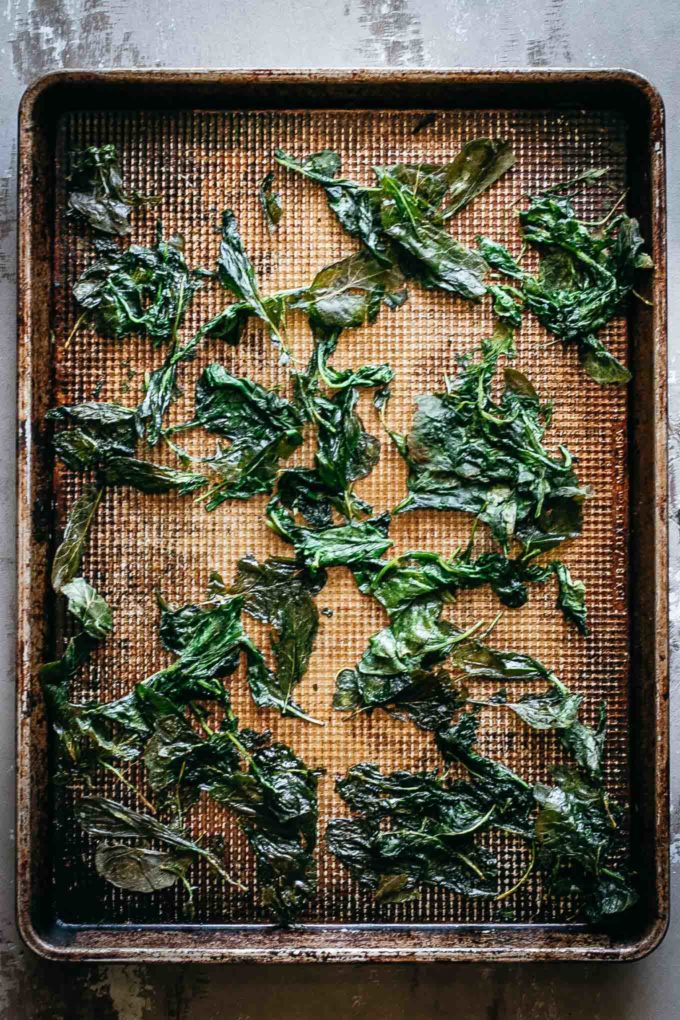 ---
💚 More recipes using radish greens
Looking for more savvy ways to use the tops of radishes? Try these out:
Want more crispy leafy green chip recipes? Try making Swiss Chard Chips, Crispy Cabbage Leaves Chips, or even Crunchy Beet Leaves Chips. The possibilities are endless when it comes to healthy, crispy veggie chips!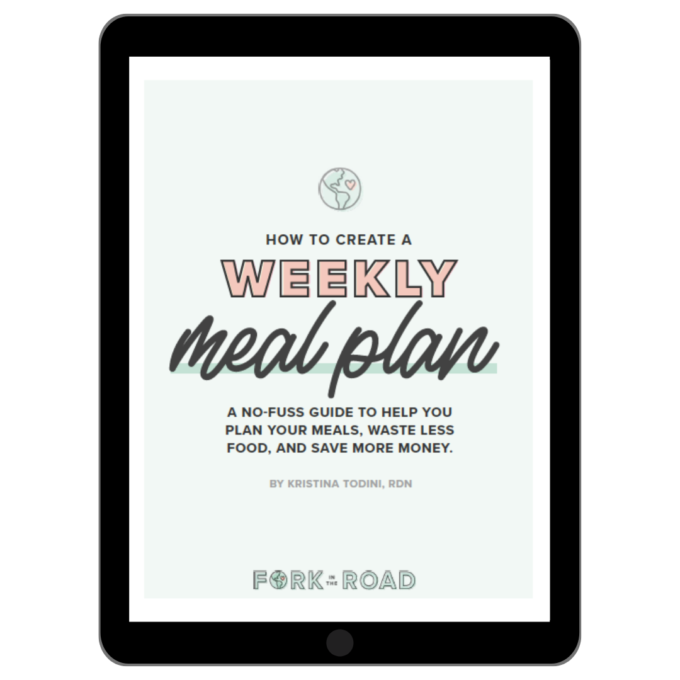 Crispy Baked Radish Greens Chips Recipe
Make chips from baked radish leaves! With only 4 ingredients, this crispy radish greens chips snack is ready in 10 minutes.
Ingredients
4

cups

radish greens

from about 1 bunch

4

teaspoons

olive oil

divided

1

pinch

salt and pepper

Optional:

garlic powder, nutritional yeast, lemon juice
Instructions
Preheat oven: Preheat the oven to 400° F (200° C).

Wash and dry radish leaves: First cut greens from the radish root, then cut off the stiff stems right under where the greens start to grow. Fill a large mixing bowl with cold water and submerge radish stems for a few minutes, stirring or moving the leaves around with your hands to make sure as much dirt is removed as possible. Next, remove the leaves from the water and use a salad spinner to remove water and put into a bowl or lay flat to dry (about 15 minutes).

Bake radish leaves: Place the baking sheet into the oven and bake radish tops for 8-10 minutes, flipping the leaves halfway through baking so they get crispy on all sides. Once they're completely crispy, remove from the oven and eat immediately for best flavor. Enjoy!
Notes
Tools Needed: mixing bowl, baking sheet, spatula
Prep Ahead: Wash and dry beet greens up to three days ahead of time so they are ready to prep for baking when your snack craving hits.
Leftovers and Storage: While the flavor and crispiness is best when eaten right after baking, you can store leftover roasted radish greens in an airtight container on the counter for up to two days.
Nutrition notes: This recipe made as written is plant-based, gluten-free, nut-free, and is a healthier alternative to traditional chips and crisps.
Nutrition
Serving:
1
g
Calories:
203
kcal
Carbohydrates:
11
g
Protein:
18
g
Fat:
10
g
Saturated Fat:
1
g
Polyunsaturated Fat:
1
g
Monounsaturated Fat:
6
g
Sodium:
20
mg
Potassium:
1
mg
Vitamin C:
383
mg
Calcium:
1254
mg
Iron:
1
mg