4 Things to Do NOW as a Dietetics Student
Are you a nutrition student looking to become a registered dietitian nutritionist but don't know where to start? Do these four things NOW to set yourself up for success on the road to RD.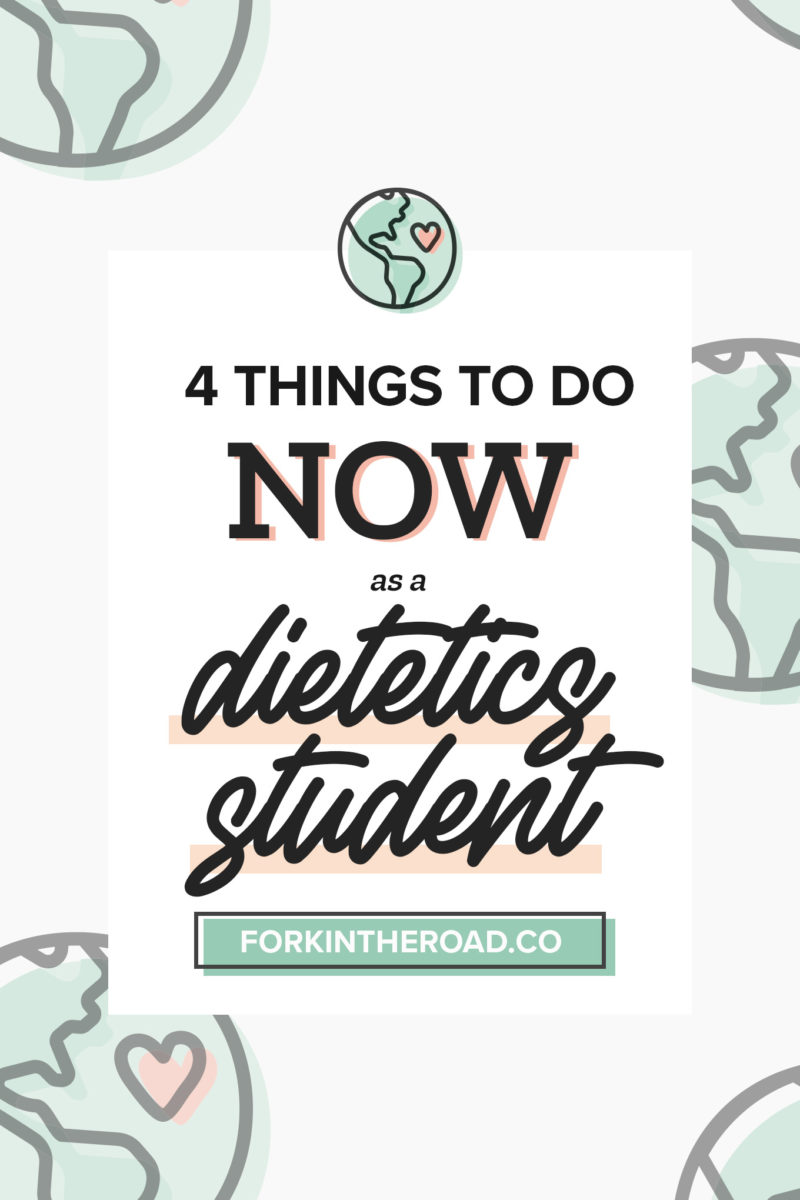 I'm just going to come out and say it: becoming a registered dietitian nutritionist (RDN) is hard work. There are no ifs, ands, or buts about it – it's a long (but rewarding) road to RD.
Currently the national computer dietetic internship match rate is 65% (which is an increase over years past!), which means that over one third of the students who are eligible and apply will matched to a dietetic internship.
However, I'm here to tell you the biggest secret to ensuring your best chances at being matched to a dietetic internship: EXPERIENCE!
Without a doubt, other than haveing a great GPA the best thing you can do for your application and your future career is to gain valuable, relevant leadership and nutrition experience in nutrition and dietetics.
Want to learn the four things you should be doing NOW as a nutrition student to prepare for your future internship application? Read on!
---
⭐️ 1. Join campus, local + national dietetic associations
One of the most valuable skills you can show internship directors is that you are a future leader in the dietetics profession.
How do you do this? Get involved in your school's nutrition organization and volunteer with your local and national dietetics associations.
🍏 Get involved with your campus nutrition club
Being a member of your campus nutrition club is the easiest way to get involved and make a name for yourself in your program. Volunteer, join a committee, or even run for office!
While in undergrad, I served as my student dietetic association's newsletter editor and was also active in committees. Being active in your program will not only help build relationships with your peers, but you will also show your professors your commitment to the program (which will be a big help when it comes time to ask for letters of recommendation!).
🍎 Join your local and national chapters of the Academy of Nutrition and Dietetics
Becoming a student member of the national dietetics professional group, the Academy of Nutrition & Dietetics (AND), and joining individual dietetics practice groups (DPGs) and other health-related organizations are resume builders and show your unique interests in the field.
🥦 Here are the benefits of joining the Academy as a nutrition student:
Show directors you are serious about the profession. Joining the professional organization for dietitians as a student shows directors you are serious about becoming a dietitian in the future.
Be eligible for scholarships. Your national Academy membership automatically enrolls you as a member of your state dietetics association and your small membership fee can pay off in dividends if you apply to scholarships. Paying the $50 student membership fee made me eligible to apply for scholarships and in the end that $50 investment turned into $5000+ in scholarships.
Network with dietitians in your area. Becoming active with your local and state dietetics association chapters will help you network and meet RDNs in your area — you never know who you will meet or how they can influence your future career.
👉 How volunteering in my local nutrition chapter helped my career
While still in school, I joined and served as my university's student representative to the Bay Area Dietetic Association. I met many RDNs who were very helpful with advice about internships and was able to take on leadership positions, as well as help with many events in the area.
Only a few years after graduating, I also took on the role of president of my local Academy chapter and it would not have happened if I hadn't became involved as a student.
---
Get paid work experience in a nutrition or food-related job while still a nutrition student shows directors that you're committed to gaining experience in the profession even before becoming an intern.
💡 Here are some ideas for getting nutrition-related work experience:
Diet clerk or other food-related hospital kitchen job
Working in a community clinic
Any paid work with a dietitian (private practice, blogging, etc.)
Working in a medical office (doctor, dentist, chiropractor, etc.)
Restaurant/food-service related jobs (probably the easiest to obtain)
Working in your campus health center
👉 My experience working as a nutrition student
I, like many students, was not lucky enough to stop working while finishing my degree. School was my number one priority, but working was essential…the bills still had to get paid and I was adamant about finishing without outrageous students loans.
While in university I worked in food service because I felt that it would yield the most amount of money in the least amount of time – and I was also able to make enough money on the weekends to take off during the week for class and studying.
I also worked part time for a dietitian in private practice, doing administrative work a few times a month, which gave great insight into owning a nutrition business. Many friends in my program obtained positions in clinical hospitals as diet clerks, which shows internship directors that you are comfortable in hospital and kitchen settings.
Other ways of gaining paid experience would be working at community clinics, food banks, or other nutrition related jobs. These positions tend to be harder to come by, but being diligent and reaching out to RDNs can help you to get paid while also gaining great dietetics experience.
---
👨‍🌾 3. Volunteer, volunteer, volunteer!
An important word of advice: start volunteering now! Volunteering your time shows DI directors that you are committed to the pursuit of gaining dietetics related experience.
🌱 Generally there are three types of volunteer experience:
Clinical Nutrition Volunteering: Obtaining a position in the nutrition department of a clinical hospital will show that you are familiar with working in a diet office and are comfortable working with patients. Finding clinical volunteer positions can be challenging in some areas without many hospitals, so also look into extended care, rehab, and skilled nursing facilities. Research every potential site and call their volunteer offices to see if they accept nutrition/dietetics volunteers. Asking your university director or other students in the area may help you get in touch with the right person.
Community Nutrition Volunteering: Community clinics, meal services, and health departments are great resume and experience builders. Meals on Wheels, Women, Infant, Children (WIC), and health departments are a great places to start your search.
Foodservice Nutrition Volunteering: Food banks are an excellent way to gain volunteer hours and many have drop-in times that can fit a hectic schedule. I was able to drop in from 3:30pm-5pm in the afternoons after class at one homeless shelter during my first semester in my DPD program. Farmer's markets on campus or in your area can also help you create relationships with local foodies while learning about seasonal produce.
The importance of volunteer experience cannot be stressed enough. My program director told every student in my program to start volunteering as soon as possible and said that at least 500 hours of service was considered competitive. Because of this, everyone in my class volunteered regularly and our class had the highest internship match rate of our program to date.
👉 What type of experience is most important for matching to a dietetic internship?
After researching many dietetic internships prior to applying, I found that the number one experience that most DI directors value was clinical.
Not every internship director may feel this way, but if the programs you are interested in are clinically focused then you will want to make sure to have great experience in that area. Are the programs you're looking at focused on community? Make sure your community experiences are top notch.
And remember, while it is good to have a wide breadth of experiences, it is also important to show that you have been able to hold positions for longer periods of time. Directors want to know that you are mature and responsible enough to handle the workload of the internship.
---
💯 4. Create your own dietetics volunteer experience
While all of the above suggestions are key areas in building your resume, how exactly can you make yourself stand out from the rest of the applicants?
The easiest way to show your creativity and initiative is to create your own experiences.
Is your school nutrition club lacking a resource you would find helpful? Then start it! Find an area that is weak or dream up a committee that would be helpful to your peers.
Develop a mentoring committee or eating disorder support group on campus—the possibilities are endless, but the core idea is to show that you are able to detect a need and implement a new idea into action.
👉 How I created my own nutrition leadership experience
While I was a senior dietetics students I reached out to Nutrition Entrepreneurs, a DPG within the Academy, and suggested starting a newsletter for its student members. My idea was well received and I worked with the executive committee for months to create a quarterly newsletter geared towards students that is still in action today.
Starting your own club, committee, or volunteer experience will set you far apart from other applicants and will show that you are blazing a new path for yourself and your fellow students!
---
👩‍⚕️ How gaining experience helps you decide your dietetics future
It may seem overwhelming at first, but once you jump in there are many possible ways of obtaining quality dietetics experiences.
The benefits of having a strong resume are obvious on paper, but personally you will also gain perspective on the field and will fine tune your interests.
For example, you may have thought you would love clinical, but then had an amazing experience in community that captured your heart. You may realize that corporate or business dietetics careers are in line with your goals.
Whatever your path may be, seeking out a variety of experiences as a student will show that you will excel in various internship rotations and will be able to handle what is thrown your way.
Taking the time to build a strong resume as a student will allow you to enter the internship application process or the employment arena with more confidence, and instead of being scared you will be proud to have reached such a pivotal point in your career. Good luck!
---
👉 More actionable RD2Be resources
Make sure to read my other articles for future dietitians:
If you want more resources and tips for the dietetic internship application process, subscribe below!